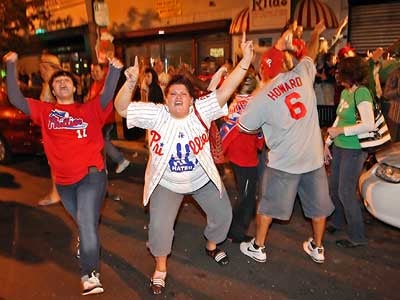 Well, this is a shame. And typical. But Philadelphia Phillies fans have never been known for their, oh, you know. What's the word? Smarts. (Present company included, obviously.) But this is just so endearingly dopey, I'm hopeful it does catch on. Via The 700 Level (which is celebrating in high style, by the way) comes this report of one Phillies fan who may have inadvertently signed up a whole city for some free courses at the Sylvan Learning Center:
On the XM RadioBaseball This Morning: Playoff Edition today, a caller from Delaware chimed in to share his joy for the Fightins. He may have just created the next great new catch phrase, saying, "Boston did it. The White Sox did it. Why can't us? Why can't us." 2008 Philadelphia Phillies: WHY CAN'T US!
Why Can't Us?
Please, please, please start printing the T-shirts immediately. Even if there is no World Series title at the end of this run, that is a slogan that will last a lifetime.
Why Can't Us?
[The 700 Level] PHOTO:
Philly.com