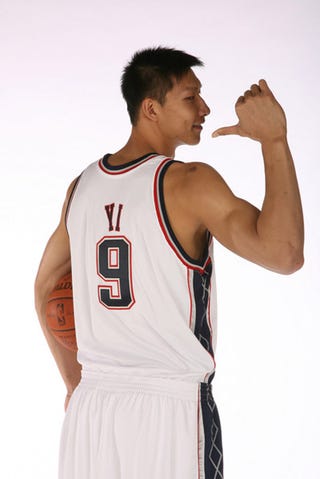 NBA training camps have begun; the season is rapidly approaching. Can you dig it? I knew that you could. And so we continue our previews: 30 of them in 30 days. Up next is a team that only wants to clear enough cap room to lure LeBron win. Even if it's years from now. They are: The New Jersey.
When last we saw them:
Finished Record: 34-48, fourth in the Atlantic Division, 10th overall in the East and 273rd in the Galactic Consol of Glartz
Placeholders:
Bobby Simmons, Brook Lopez, Chris Douglas-Roberts, Eduardo Najera, Jarvis Hayes, Keyon Dooling, Ryan Anderson, Yi Jianlian
Cleared out for future LeBron cap space the purposes of winning:
Bostjan Nachbar, Darrell Armstrong, DeSagna Diop, Marcus Williams, Nenad Krstic, Richard Jefferson
The Good:
Okay, so, what's "good" about a team that's being rebuilt to win a few years from now? Well, this is going to sound nuts, but the Nets were an incredibly unselfish team last season: They racked up 1,925 assists, second-most (behind Toronto) in the East and sixth overall in the NBA. But it's even better than it sounds, because the Nets assisted on 67.4 percent of their field goals, which led the league. And ball movement leads to good basketball! Uh, right? [Glosses over last year's 10th place finish] ANYWAY...franchise centerpiece Vince Carter can do it all (21.3 PPG, 6.0 RPG and 5.1 APG last season). And maybe, with Kidd gone, Vinsanity will be inspired to give it his all and lead this young team to the playoffs. (Farfetched, I know, but still.) Devin Harris, the principle pickup in the Jason Kidd trade, is a young speedster who can score and dish, and Lawrence Frank is building the offense around his PG. Said Harris: "It's so wide open. There's no set down-picks and cross-screens. It's pretty much just reading off of what I do when I start the offense. It's me getting in the lane. It's pretty much predicated on what I do." They've assembled a young core (Boone, Williams, Jainlain, Lopez, Anderson and Douglas-Roberts) that might be really good. In a couple years. They brought in some veteran leaders (Najera, Dooling and Hayes) to keep the kiddies in line in the meantime. And, most importantly, management has arranged the books so they'll have only $25.6 million in salary for 2010-11...when, as we all know, LeBron "I heart New York" James will become a free agent.
The Bad:
For starters, a team that's not being built to win right now probably, you know, won't win right now. That's enough to demotivate even the stoutest heart. And as we all know, Vince Carter doesn't have the stoutest of hearts. Seeing as how Mr. "I will freaking quit on you if things don't go my way" Carter is in the second year of that $61 million contract he signed last summer - all guaranteed money, by the way - I don't see him killing himself in the name of the team, do you? As noted, Frank is instituting an offense that can be described in short as "Give our point guard the ball then let him dribble the hell out of it until he finds an open teammate or forces up an outside shot." I'd feel better about that if the PG was Steve Nash. Devin Harris? Not so much. Even worse, there's reason to suspect that Harris has caught the Vince Carter Syndrome: In 39 games with the Mavs last season, Harris attempted 48 percent of his field goals from "inside" (six feet or closer). But in 25 games with the Nets, that number sunk to 34 percent. As did his field goal percentage: From 48.3 percent for Dallas to 43.8 percent for New Jersey. Yikes. Also, this is a team that was 25th in the league in scoring last season(95.8 PPG), and frankly, beyond Carter and Harris I have no idea where the points are going to come from
this
season. Especially if opposing teams choose to clog the lanes (which they will) and dare the Nets to try and beat them by hoisting bad jumper after bad jumper (which they totally will).
Fun Facts:
The Nets won only four games in their division (the Atlantic) last season. Minnesota, Sacramento, Miami and Memphis were the only teams that won fewer games in their own division. The franchise was founded in 1967 as part of the ABA. The team was originally known as the New York Americans. However, owner Arthur Brown couldn't find anyone to host their games because nobody wanted to piss off the Knicks. So the team was forced to play in New Jersey and therefore changed their name to the New Jersey Americans. So, you know, the Nets have always been about EXCITING BASKETBALL ACTION (EBA). The Nets have had two players named Rookie of the Year: Buck Williams (1982) and Derrick Coleman (1991). It is said that during the later days of
Tribulation
, the Dark Lord will punish the unfaithful by making them watch Nets games over and over.
Videotastic extra:
Sure, we've all seen it, but can we really get enough of watching Devin Harris schooled by a white British dude in a sweater?