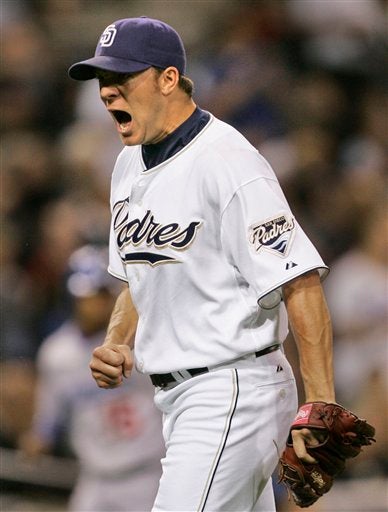 The rumours about Jake Peavy's longing to stop wearing camouflage continue to churn along. The Padres ace, who went 10-11 last year despite having an era of only 2.85 (in case you were wondering why he wouldn't mind a trade), has apparently shortlisted his, um, list of desirable teams to five : the Braves, Astros, Cubs, Dodgers and Cardinals. Noticeably absent from the list are delirious spendaholics Boston and New York (Yanks). That's because, according to Peavy's agent, he has a "strong preference" to stay in the NL. The ostensible reason is that he already knows the hitters and likes to actually, y'know, hit and run the bases (and he did bat a solid .265 this past year). But of course there is that other little matter of the pesky extra hitter:
Peavy isn't the only pitcher who prefers the NL, which exempts the designated hitter. Greg Maddux, a friend and mentor of Peavy's, often has quipped that he stayed in the NL for his entire career because he's "not stupid."
Meanwhile, Peavy has decided to toy with the affections of vulnerable Astros fans as he waits for this thing to play out. He told the Houston Chronicle,
while on a hunting trip with Roy Oswalt
,
and while apparently using Roy Oswalt's cell phone (OMG!)
, that he "certainly" would waive his no-trade clause to come to Houston. That brings to mind two obvious questions: what does a Jake Peavy and Roy Oswalt hunting trip involve? And do they wear Padres unis?
Update: Don't start planning the World Series parade (for 2009, not 2008) yet, 'Stros fans. Apparently, the Cards are also very much in the mix.
Organization feeling out trade offers for Padres staff ace Peavy
[San Diego Union-Tribune]
Peavy says he'd waive no-trade clause to be an Astro
[Houston Chronicle]