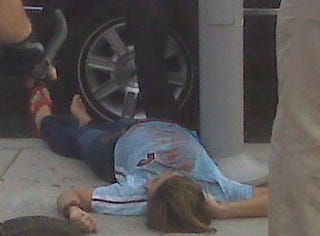 A couple of weeks ago, I asked for stories about people's worst Philadelphia fan experiences in the hopes that I'd be able to use them right before the start of the World Series. That worked out. As you may know, the Philadelphia Phillies are National League Champions (Woo-hoo!). I received many, many submissions from all across the country, detailing some of the worst-of-the-worst of Philadelphia's long-established cretinism. For the purpose of editorial balance, I decided that it would make sense to do the same for the American League representative. Boston, obviously, did not come through, so publishing America's annoying experiences with Sawx Nation will have to wait another year. Instead, I'm asking for submissions from readers about their worst experiences with...Tampa Bay fans. Most people probably haven't had first-hand experiences with Rayhawk Nation but, for now, any kind of anti-Tampa bashing will do. Maybe you had a bad experience at their aquarium. Or the University of Tampa. Or bad bachelor party experience at a strip club. Just gimme your worst Tampa bay-related experiences so we can run it tomorrow before the World Series. Submit here: ajd@deadspin.com After the jump, read some amusing stories about Philadelphia's notoriously obnoxious sports fans. Tampa fans headed to Citizens Bank Park this weekend — consider this your warning.
PHOTO: Courtesy of
TheFightins
This should only help with the campaigning
I thought twice about writing because I am a candidate for office in the City, but then remembered that getting caught throwing a snowball at an
Eagles - Dallas Game did wonders for our former Mayor and now Governor's career
. Not surprisingly because of our Championship drought the post-season usually brings out the best of the City of Brotherly Shove. So here are my two favorites — * Eagles v. Detroit 1996 NFC Wildcard Game The tone was set early when Detroit lineman Lomas Brown guaranteed a win and Eagles' coach (the late) Ray Rhodes compared Detroit coming to town to sodomy with players wives. On top of that it a snow storm had the City scrambling to remove snow from the Vet to avoid another Snowball Bowl and national embarrassment. Typically, there were friendly Detroit fans in attendance. I say typically because opposing fans — usually from the Midwest or the South — are under the mistaken assumption that they can charm their way around drunken Eagles fans. The game gets rapidly out of hand and the Birds are killing Detroit adding fuel to the drunken fire. These two sap Lions fan decide to leave and receive the general Philly goodbye replete with f-bombers. Two diehards take it up and notch and basically try to bait these gentleman into a fight. These friendly Lions' fans try to defuse the situation with a "just beat Dallas for us" comment and then inexplicably walk into a port-a-pot. That was all she wrote. Eagles fans surrounded the port of pot — which was inside the Vet mind you — and just dumped it. The one portly Lions fan just rolled out pants undone in 30 degree weather with a look of utter bewilderment covered in crap, piss, and blue port a pot water.. Welcome to Philly. * Flyers v. Panthers Game 6 Eastern Conference Semis I believe this was the last game that counted at the old Spectrum. The Flyers were heavy favorites in the series having reached the Conference Finals the year prior only to lose in a close series to rival New Jersey. The last game at the 1970's Spectrum ended with in 1970's fashion with several chairs thrown on the ice. But the real fun was outside where one fans frustration with Eric Lindros was taken out on an innocent fan in a Lindros Jersey. The attack was initiated by a man in a classic black "Members Only" jacket, who we simply refer to as "black jacket." Black jacket beat fan Lindros for no apparent reason, to make matters worse Black Jackets wife/mistress/hooker joined in the beat down of fan Lindros. This all happened as fans walked to their cars saying "Go Eagles!" Ah, the City of Brotherlylove. Wally Zimolong, Esquire
There are worse reasons to boo somebody....
My Philly experience is a pretty simple one. I was at a Phillies game once as a fan and the four guys sitting behind me were booing everything they could get their eyes on. When someone would buy a Diet Coke: "Booo Diet Coke! Pepsi's better." When someone walked by wearing sandals: "Sandals suck! Next time wear shoes." When someone got a hit: "Boo single! We want a friggin' double." But the topping on this cake was when a guy arrived in our section during the second inning wearing a Roberto Clemente throwback jersey. So screamed the four Philly faithful: "Boooo Roberto Clemente. He's dead." Wayne Drehs, Senior Writer, ESPN.com
Our D is tough
Redskins at Eagles, 2005: During Eagles games, I like to tailgate next to the Wachovia Center. There is high shrubbery that most men go to relieve themselves jutting up next to the building (maybe you've frequented this spot). Anyway, the shrubbery gets loaded with piss prior to every game by every fan in the vicinity. I saunter up, rocking my Buddy-Ryan era kelly green knit Eagles sweater (old school Eagles insignia, good stuff) and out of the corner of my eye I see a group of Eagles fans, both men and women in their thirties congregating about 30 feet away. I am calmly peeing away the 12 pack of Stones that I had downed that morning when all of a sudden one of these dudes gets into a three point stance, he Starter jacket lifting up around the waist to reveal his Lee-jeans-with-no-belt. Then he comes seemingly at me on a dead sprint while I am behind the tall bush peeing. As a Philly guy, this isn't enough to disturb my pee, in my drunken haze I knew there was something else going on here out of my sight line. All of a sudden WHOOOOOOOSSHHHHHH!!!!! The shrubbery cannot withstand the impact as the sprinter and another unseen body disappear into the pee zone and the shrubbery collapses into itself. The Eagles guy that had been on a sprint jumps out and throws his hands up in the air, in victory. I clamber out to see what the hell just happened and stuck in the shrub is a Redskins fan in a Patrick Ramsey jersey trying to dig his way out, surely awash with fresh pee from the previous 85 gentleman who had used said shrub as a urinal. He is flustered and has the Cole Hamels beet-red face going, but really has no choice but to walk away in shame as the Eagles group do the E-A-G-L-E-S chant as their buddy rolls back up. Good times. Jordan Stuart
Hey, some people drink it for nutritional value
So I was at a sports bar with one of my teammates who happens to be from Philadelphia. He likes to instigate fights and messes with people. He's the guy you think of when people mention Philly fans. We were hanging out by the bar when he says to me "I'm gonna set a land mine". I had no idea what he was talking about. He turns around so he's facing the wall and starts pissing in his half empty beer cup. The bar was dark enough so nobody could see what was going on. After he filled up the cup, he leaves it sitting on the bar where we could all see it. We waited about a half hour until some unsuspecting drunk picked up the stray beer and drank it. The poor guy drank the whole thing. I'm not gonna lie...I thought it was hilarious. Only somebody from Philadelphia would do something like that. Jim Prentice
"Typical Philly"
Typical Philly stuff I'm sure, but when I attended the Eagles/Lions ass-handing in the first round of the playoffs when I was 13ish, I guess, I was with my father (who never turns down an opportunity to tell me that he was at the infamous santa-booing game) and someone else from his job who had also brought his son who was 11. Anyway, long story short the kid shows up to Veterans Stadium, in the playoffs, wearing a Dallas Cowboys starter jacket (which were all the rage at the time) Queue 3 hours of profanity and throwing full cups of beer at this 11 year old kid. Also I was once told by some friends who attended American University in Washington DC that some Philly transplant Eagles fans in his dorm threw pizza at a girl in a Redskins jersey until she cried love this stuff go phils Stephen Farley
We love to fly and it shows
December of 2003, the Eagles are playing the Dolphins at Joe Robbie Stadium on a Monday night. I get a bunch of Phins fans (and two Eagles fans) to fly down for the weekend, take in the sites, hit the game on Monday night, and get back to Jersey. Apparently some radio station in Philly had the same idea, and they bought the last 5 rows of the entire stadium. When I got to Newark airport for my flight, all I saw was wall to wall Eagles fans. There were 10 of them on the flight with me. They drank the plane dry. Even those faggy bottles of wine...GONE. Did I mention the plane left at 8:30 am? There was a guy passed out in the seat next to me blowing the most vile farts I have ever smelled. The stewardess puked in her mouth from them. He may have shit himself, or, come to think of it, maybe he died in the seat. Eagle fans travel light for their weekend trips. No one checked bags. They carried on a small bag with them. They slept on the beach and on benches. They pissed in the storm water grates on the stadium concourse. Just whipped out their cocks and pussies and let 'er rip right out in the open. On a positive note, I gotta hand it to them. They were loud from pre-game to final gun. They travel strong (musta been 10,000 of them). They love their team more than any other fanbase. Jeffrey Camp
The art of the middle finger
A couple friends and I went to the Bills/Eagles game at Lincoln Financial last year. I think it was Week 17. We're all Bills fans and didn't hide this fact from anybody, so we were immediately greeted with chants of "Asshole, asshole" when we pulled into the parking lot. Once we entered the stadium, the fans in our section informed us that we were homosexuals and that all of our mothers accepted money in return for sex. But really, the guy who was most upset with us was one who wouldn't stop complaining that guy who normally occupied our seats (a season ticket holder) had sold them to Bills fans, for well under face value. During the game, we had three things thrown at us: an empty plastic cup, a half-eaten soft pretzel, and a red blanket from Pier One, which was still in its original packaging. The pretzel wasn't worth salvaging, but we kept the blanket. All in all, a pretty disappointing display. We've also attended a few Syracuse/Villanova games at the Wachovia Center, but the people there never really seemed to give a damn about anything. The saving grace from the Eagles game was the picture I've attached to this email.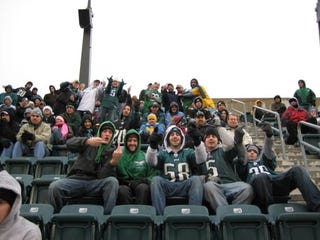 Mike Phelps