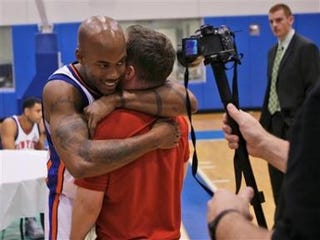 NBA training camps have begun; the season is rapidly approaching. Can you dig it? I knew that you could. And so we continue our previews: 30 of them in 30 days. Up next is a team that last season surpassed the Clippers as the punch line team of the NBA. They are: The New York Knicks.
When last we saw them:
Finished 23-59, fifth in the Atlantic Division, and next to last in the East. But to be fair, they
were
first in "number of 'Fire Isiah' chants generated."
Welcome to the nuthouse:
Anthony Roberson, Chris Duhon, Danilo Gallinari
Free at least, thank the Lord, free at last:
Fred Jones, Randolph Morris, Renaldo Balkman
The Good:
Isiah Thomas is gone. Isiah Thomas is gone. Isiah Thomas is gone. Isiah Thomas is gone. Isiah Thomas is gone. Isiah Thomas is gone. Isiah Thomas is gone. Isiah Thomas is gone. Isiah Thomas is gone. Isiah Thomas is gone. Sorry, but that point
cannot
be stressed enough. It's like saying "Grandma's Alzheimer's just went away!" or maybe "Uncle Jerry's 'stomach tumor' was only a wad of aluminum foil he swallowed." Human words can't possibly express the inexpressible goodness. And the Babyfaced Franchise Assassin was replaced as GM by consummate professional Donnie Walsh and as coach by the nation's leading fastbreakologist Mike D'Antoni. And...and...uh...yeah, that's about it. Okay. I'll try a little harder. How about this: The Knicks won't win that many more games than last season, but - thanks to D'Antoni's "fun 'n gun" style, watching them lose will be a lot more fun!
The Bad:
Oh jeez, where to start. This is a team that ranked near the bottom of the NBA in so many categories last season it was like they were
trying
to suck: 30th in assists (18.7), 30th in blocked shots (2.6), 28th in opponents' field goal percentage (.474), 28th in opponents' turnovers (12.6), 27th in field goal percentage (.439), 27th in three-point percentage (.337), 26th in steals (6.4), 25th in point differential (-6.6), 23rd in free throw percentage (.7279, 22nd in points allowed (103.5). And all that's going to change because, what, Chris Duhon is running the point? Because that's the only major personnel change from last year's 23-win abomination. Sure, D'Antoni's running the show now (pun sort of intended), but is he really going to get the Eddy Curry and Zach Randolph to
run
without realistic and convincing threats of violence? And can runnin' and gunnin' really fix the team's obvious
chemistry problems
? Plus, the Knicks have been one of the league's six worst defensive teams (per possession) for the last
four seasons
. Somehow, I don't think Mikey Boy can repair the Knicks' defensive inadequacies; D'Antoni's teams couldn't guard somebody with a gun. And if all that wasn't ominous enough, Stephon Marbury is still around, hoggin' the ball and cap space. What I'm trying to say is that, so far, bringing in Walsh and D'Antoni is like putting curtains on a port-o-potty. The minor aesthetic modifications on the outside won't change the fact that what's on the inside still stinks.
Fun Facts:
Let's talk numbers, shall we? The Knicks have averaged 16.4 Turnovers per game for the past three seasons, which is (not surprisingly) worst in the NBA. When Eddy Curry was in the game last season, New York committed 4.4 more turnovers per 100 possessions - which was the worst one-player impact in the league. (Curry averaged 2.1 turnovers in 25.9 minutes per game Isiah let him play.) "Big man" Zach Randolph averaged 0.2 blocked shots per game. His total of 16 blocks was two fewer than Fred Jones (who's a guard) and one fewer than Jamal Crawford (who is also a guard). The Knicks have not made the playoffs in four years. That's the team's longest dry spell
in over 40 years
(since 1966 to be exact). Stephon Marbury is tied (with Allen Iverson) as the league's second-highest paid player (behind Kevin Garnett) at $21,937,500.
Videotastic extra:
And now, for your viewing pleasure, I present to you: Zach Randolph and the worst possession in NBA history.