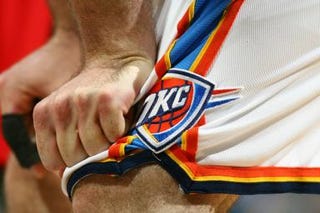 NBA training camps have begun; the season is rapidly approaching. Can you dig it? I knew that you could. And so we continue our previews: 30 of them in 30 days. Up next is a team that isn't even supposed to be here today! They are: The Oklahoma City Thunder.
When last we saw them:
Finished 20-62, fifth in Northwest Division and 15th overall in the West. AND THEY WERE CALLED THE SEATTLE SUPERSONICS. Sorry about that. Still bitter, I guess.
The future:
Desmond Mason, Devon Hardin, D.J. White, Joe Smith, Kyel Weaver, Russell Westbrook, Serge Ibaka
The past:
Adrian Griffin, Cheetara, Donyell Marshall, Francisco Elson, Lion-O, Luke Ridnour, Panthro
The Good:
They already have their franchise cornerstone in the form of last season's Rookie of the Year, Kevin Durant, who fills the basket the way a waiter at Ponderosa refills your Pepsi: Effective (20.3 PPG) even if he's a little sloppy (43 percent shooting from the field, 28 percent from beyond the arc). Plus, it looks like he spent the summer slurping down some
Weight Gain 4000
, and the added beefcake should help him both on defense (where, hopefully, he'll get to play in position this year) and on the boards (4.4 RPG last season). Jeff Green, who like Durant made the All-Rookie First Team, averaged a solid 10.5 points and 4.7 rebounds per game. And, like Durant, he started to catch fire at the end of last season: In April, Kevin averaged 24.3 PPG, 6.4 RPG and 4.1 APG, and Green added 15.6 PPG and 6.3 RPG. So it stands to reason they should both get better. Rookie Russell Westbrook has all the ingredients necessary to make an All-Star cookie, and,
according to NBA.com
, a scout who saw Westbrook at the Orlando summer league said: "He's flat out the best player here not named Kevin Durant." Oh, and of course all the stories out of UCLA indicate he's one of those "first one to the gym, last one to leave" kind of guys. (Although, isn't that phrase used to describe pretty much everybody these days? Does anybody ever actually leave the gym and go home anymore?) Nick Collison is almost a certified double-double guy (9.8 PPG and 9.4 RPG last season). Desmond Mason and Joe Smith are on hand to provide a little veteran leadership, which should hopefully keep Chris "I'm on a coffee break, okay?!" Wilcox in line. The people of Oklahoma already love them: The Thunder sold all 13,000 season ticket packages in only five days. And, trust me, this team is going to need all the love it can get...
The Bad:
This team was B-A-D last season: 30th in point differential (-8.8 ppg), 29th in turnovers (16.0), 29th in assists allowed (24.4), 28th in three-point percentage (.333), 28th in three-point defense (.385), 27th in points allowed (106.3 ppg), 26th in rebounds given up (44.1), 26th in opponents' turnovers (13.2), 23rd in steals (6.47) and 20th in field goal defense (.461). You'll note that a lot of those numbers point to atrocious defense. Durant is good. Really good. But he's not a Jedi yet. Green might be really good...some day. Westbrook, for all his talent, is a rookie PG who doesn't have a lot of quality teammates to pass to, and he'll probably be sitting behind Earl Watson on the depth chart. (At the start of the season, at any rate.) Chris Wilcox - who averaged 14.1 PPG, 8.2 RPG and shot 59.2 percent when he came to the team in the middle of the 2005-06 season - can't seem to maintain his focus and intensity on a nightly basis. Sometimes not even on a minute-by-minute basis. Their big men - Wilcox, Joe Smith, D.J. White, Nick Collison, Johan Petro, Mouhamed Sene - do not inspire fear, unless you have a terrible phobia specific to tall, ugly people. They've got a strong core with a bright future, but they won't be winning more than 30 games any time soon. And everybody knows it.
Oh, and they have a stupid name
.
Fun Facts:
Since this is a team bereft of a past - I refuse to grant them the Sonics' team history - let's talk stats.
According to SI.com
: "Durant last season averaged 41.8 points per 48 minutes of clutch time (a five-point game in the last five minutes of the fourth quarter or overtime), which ranked sixth in the league. LeBron James led that category with 56.0 points."
According to the Sporting News
: "Kevin Durant ranked 92nd among 93 3-point shooters with at least 200 attempts last year. He made 28.8 percent of his 205 shots and was better than only Charlotte's Raymond Felton, who converted 28.0 percent from beyond the arc." According to most people in Seattle: Clay Bennett should die of gonorreah and rot in hell.
Videotastic extra:
Here's a little eye candy for you: The Oklahoma Thunder City Dancers!
Note that the initial audition took place in the Cox Convention Center
. I'll go ahead and let you make your own joke about that one.