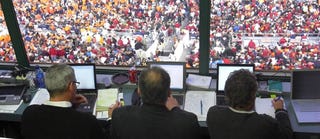 David Berry never started out to be the Che Guevera of the sports blogosphere. He's actually quite mild-mannered — even for a Canadian — and doesn't even own a beret. But sometimes these things are out of one's control, and Berry these days has found his situation the cause celeb among his basement-dwelling brethren. Who at this point hasn't heard of Berry's forceful ejection from the Edmonton Oilers press box, all for the crime of writing an unauthorized live blog? For all the dust this episode has kicked up, one would have thought that Berry had been live-blogging from the Pentagon during Defcon 2. Or, you know, the Canadian equivalent of that. "I'm not really here to rally the blogosphere or anything," said Berry, who in his day job is a writer for Vue Weekly, an Indy news and arts publication in Edmonton. "People have cast me as the universally wronged blogger, an example of the Oilers' backwards interpretation of technology," he said. "But while I appreciate all the support I've gotten, I actually see the Oilers' side in all of this. I'm very disappointed in the way they handled it — they could have been a lot more cordial — but I understand their rules." Berry's story goes like this: He was hired by a wire service — he won't say which one — to take notes on the Oilers' Oct. 12 game against the Colorado Avalanche and collect quotes afterward. To pass the time in the press box, he also
decided to live blog the game
for his own site, Covered In Oil, which is one of the most widely read hockey blogs on the computer tubes. But this didn't sit well with the Oilers PR department, who were familiar with Berry's keyboard stylings and were not, as they say, big fans. While Berry was in mid-blog, the team sent a PR Monkey to the press box to literally pull the plug on the live blog, and escort Berry from the premises. And apparently they were none to polite about it.
Berry writes about it here
, including the part where he is flogged, keelhauled and later used as chum. "The specific reason I was given was that I was credentialed for another purpose," Berry said. "I wasn't authorized to write for anyone besides the wire service while I was in the press box. I apologized at the time, telling them that I hadn't been aware of the rule, but they weren't interested in hearing my side of it. They acted very unprofessionally, and that's my big complaint." But the blogerati perceives this as something considerably deeper; a prime example of a pro sports franchise woefully behind the technological curve. Instead of embracing bloggers as the wave of the future — and therefore people to be incorporated, or at the very least tolerated — many teams like the Oilers are simply releasing the hounds, the future be damned. But some teams have not adopted Edmonton's scorched earth policy toward bloggers. The San Jose Sharks, for one, are making a genuine effort to invite bloggers to the table, perhaps not surprising considering that the franchise is in Silicon Valley. "It doesn't take a rocket scientist to realize that newspapers are slowly going away," Sharks media director Scott Emmert said. "Blogs are one of the venues that fans are going to, and we realize that. We make an effort to follow what's written. There's the saying about there being no such thing as bad publicity, and while I wouldn't go quite that far, it is true that a pro franchise can make blogs work for them." The Sharks actively work with sites such as
Hockey Buzz
and
Sharkspage
, because they recognize the upside of such a relationship. "But those sites have a large degree of professional accountabilty," Emmert said. "That's the thing that has to be in the equation. A lot of bloggers are out there writing things that are factually incorrect with no accountability, and we don't want to be working with them, obviously." John Ryan, who blogs regularly for the San Jose Mercury News, sees accountability as a huge issue in the relationship between pro franchises and bloggers. "If I write something that is out of line, the team can call my employer and there's accountability there," he said. "But when an independent blogger writes something outrageous, often the only recourse a team has is to take away his press credential. So I see that. But you can be smart about it. The Sharks were pushing us to have a Sharks blog before we even had one." For most bloggers, the press box is still a very, very distant place, and that's the way it should be. For bloggers to be accepted into the club brings with it a certain degree of complicity; toeing the company line in order to keep the press pass. When I was hired to live blog Charles Barkley's rounds at the American Century Celebrity Golf Tournament for NBCSports this past July, I assumed that there would be no strings attached. But one of the first things that happened upon my arrival at Lake Tahoe's shores — even before the degenerate gambling — was a meeting with an MSNBC exec who cautioned me that they didn't want me to be too hard on Barkley. "Charles has been a friend to this tournament, and we don't want him ridiculed," I was told. So, you know, kid gloves for the Round Mound. Better to stay outside of the press box entirely than to be assimilated like that. The truth is out there, but it's hard to find it while you're scarfing the free buffet.
It Ends ...
[Covered In Oil]
Edmonton Oilers Get A Blogger Beat-Down After Censorship
[Puck Daddy]