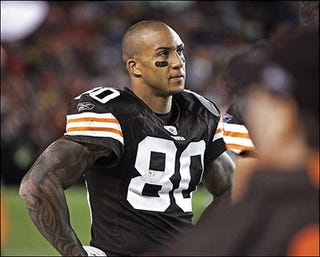 Can a team suspend a player for defending his own nether region? It appears that's exactly what the Cleveland Browns are doing with Kellen Winslow, and excuse me if I call them on their bullshit. On Monday Cleveland suspended Winslow for one game for "unwarranted, inappropriate, and unnecessarily disparaging" remarks about the organization, as they put it. But the more one looks into want actually happened, the more the Browns' position seems indefensible. It's time to rise up and defend your hero, Browns fans. Free the Winslow Two! This marks the third straight week that Winslow has sat out all or most of a Browns game due to what at first was reported as an undisclosed illness, which was then soon rumored to be "swollen testicles," technically known as hydrocele. The truth turned out to be that Winslow was suffering from a staph infection, which is something else entirely, and evidently something the Browns have had a real problem with in recent seasons. Winslow — understandably, in my opinion — wanted
the swollen testicles rumors to stop
, and claimed that
the Browns were no help in that regard
.
Winslow, who spent three days at the Cleveland Clinic earlier this month with an undisclosed illness, revealed he had a staph infection. He also complained that the team, which has had at least six cases of staph in the past three years, asked him to hide his illness. Winslow criticized general manager Phil Savage for not checking on him while he was in the hospital, said he felt like he was being treated like a "piece of meat," and revealed he considered requesting a trade.
So upon hearing Winslow's criticism, the Browns lowered the boom with the one-game suspension. The Browns cited privacy laws and Winslow's wishes when they initially declined to identify his medical condition. But when Winslow himself wanted the truth to be known, they told him to clam up. This did not sit well with Winslow.
From the Washington Post
:
"Regardless of how this was released the information would still remain the same," Winslow said. "I contracted staph, again. I spoke out on this because I felt it was the right thing to do and that is why I was so passionate about it. This has nothing to do with football and this has nothing to with my current contract situation. This is a health concern. "I care deeply for my organization, my teammates, and the Browns fans. At no time was I ever trying to cause distress for the team or be a distraction but the fact remains there is a health issue that needs to be addressed further."
I'd be interested to hear from Browns fans as to their take on this. To me the team is totally in the wrong. I'd want to be traded too; you mess with my balls, you have a problem, suits.
Browns Suspend Kellen Winslow For 'Disparaging' Remarks
[USA Today]