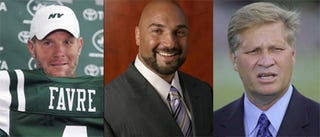 Brett Favre finally addressed the issues surrounding the
Jay Glazer report
about whether or not he shared offensive secrets with the Lions prior to the Packers game. As you may have heard: Glazer broke the story, ESPN sends out standard memo instructing its Bristol army
NOT TO REPORT THAT STORY,
and questions pop up as to whether the WWL is installing a company-wide anti-Glazer policy for the sake of Chris Mortensen's fragile ego or if Favre is sour-grape sabotaging his former team. Both. Kind of. Favre held his weekly
media press conference today
and spilled what really happened between him and the Lions. It turns out that former Lions' mastermind (ha) Matt Millen invited Favre on a hunting trip, just a couple of good ol' boys shooting quail and eating Skoal for breakfast, etc., but it turns out there was some Packers talk as well. Favre initially denied
Glazer's report to Peter King
— "total bs ... not true and pretty ridiculous. I'm telling you it's not true. What the hell is their [FOX's] problem?' — but then today, he clarified. "I didn't give him any game planning. I haven't been in that offense in over a year. I don't what else to tell you. It was pretty simple...This stuff happens all the time."
Right
. Indeed, it does. Since there aren't any league policies preventing former players of former teams sharing insights with other teams, there aren't any violations. This type of NFL game-planning happens all the time, this is why you'll see some players picked up off the waiver wire whose only true value is their familiarity with another team's system. It happens in the NFC East, like, once a week. But because this is FAVRE and after a summer focused on the swirling melodrama about his un-retirement , this is bigger news than usual. The fact is, Favre manipulated the media all summer for his own self-interest and showcased his truly diabolical side in dealing with the Packers, the Vikings, Greta Van Susteren, and whoever else felt obligated to follow him around in Mississippi while he threw post patterns to high school players. Now. ESPN's relationship with Favre has always been a cozy one and everyone knows that Mort and Werder — and, for a short period of time, Rachel Nichols — were all willing to climb into Favre's brain to keep this story front-page news. Glazer, who's always had a knack for getting NFL players, GMs, coaches, and towel boys to speak candidly to him, has the Lions/Favre story yet chose to sit on it for five weeks anyway, which is odd in itself, considering most of Glazer's stories aren't kept simmering for that long. Also, it doesn't make any sense that ESPN would purposely ignore a story that Glazer broke because they've been more than forthright about giving credit where credit's due (sometimes), even when their Senior NFL Analyst
gets his ass handed to him
. There's nothing that would suggest that this is a personal vendetta against Glazer, but ESPN's reluctance to hop on this story initially should shed more light on their relationship with Favre. He's the first source on a lot of their news and if he's going to flat out DENY it, well, there's no story there, right? Enter today's press conference and now ESPN is
allowed to report
on the story because Favre has talked about it publicly and now Chris Mortensen can swoop in and pick up the scraps. At the end of the day, the real story is the same as it was all summer: Favre's not the golden boy everyone thought he was and he's going to do what he wants, when he wants, and he knows he's good business for many, many people who cover the NFL so it doesn't bode well to defy him. Because, if you do, well, all he has to do is call bullshit on a story regardless of how true it actually is and that will be the end of it.
ESPN Finally Embraces the "Hot" Favre Story
[PFT]
Cat fight!: Fox's Jay Glazer vs. ESPN
[Sporting News]