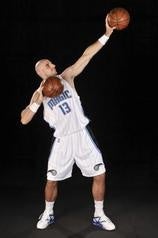 NBA training camps have begun; the season is rapidly approaching. Can you dig it? I knew that you could. And so we continue our previews: 30 of them in 30 days. Up next is a team that puts the "Orla" in "Orlando." They are: The Orlando Magic.
When last we saw them:
Finished 52-30, first in the Southeast Division, third overall in the East. Went buh-bye in the conference semis, courtesy of their semi-nemeses the Pistons.
Here:
Anthony Johnson, Courtney Lee, Dwayne Jones, Mickael Pietrus
There:
Carlos Arroyo, James Augustine, Keyon Dooling, Maurice Evans, Pat Garrity
The Good:
Dwight Howard is like the monster under your bed, only in this case "your bed" is that painted region under most regulation NBA baskets. Last season, Supes averaged career highs in points (20.7), rebounds (14.2) and blocks (2.2), and many people expect him to take the Next Big Step in the coming months. Hedo Turkoglu went from "decent complimentary piece" to "certified second banana" (19.5 PPG, 5.7 RPG, 5.0 APG and countless clutch shots). Rashard Lewis provides points (18.2 PPG) and strokage from outside that big half-circle (a team-high 226 threes on 41 percent shooting in 07-08). Past their three-man boom-boom-boom, Jameer Nelson gives them solid production at the one spot (10.9 PPG, 5.6 APG, 41.6 percent three-point marskmanship). The return of Tony Battie, a true power forward, will provide rebounding, interior defense, and the option to (at times) play Lewis at small forward, which is a better fit for him. Mickael Pietrus can provide some defensive stoppage on the perimeter, something the Magic have been sorely missing. J.J. Redick might be ready to actually, you know, play and stuff (10.5 PPG, 51.1 percent shooting and 10 three-pointers in six preseason games). Courtney Lee — selection number 22 in this year's draft — rocked the NBA Summer League for 20 PPG, so he might be ready to contribute sooner than expected. Oh, and coach Stan Van Gundy is always good for a few funny quotes and/or Ron Jeremy references.
Plus, fans love his suits
.
The Bad:
Their front court was dominant last season...but there are some reasons for concern. Howard and Turk both had perfect attendance, and Lewis missed only one game. Odds are against all three of them staying so healthy over another 82-game meat grinder. Howard is amazing, but he needs to stay focused, improve defensively and (even more so) at the line, and add some offensive moves so that he's not as reliant on his freakish athleticism. After signing that $122 million contract last summer, Lewis' averages in points, rebounds and field goal percentage all dropped from his last year in Seattle, a trend that continued (and worsified even) in the playoffs. Can Turkoglu build on what he did during last year's breakout season? Particularly since he plans to opt out of his contract next summer and the Magic - who have $200+ million wrapped up in Lewis, Howard and Nelson - might not be able to re-sign him. That means, of course, they might seriously consider moving him before the trade deadline. Even if they don't, they'll probably at least explore the idea, and that kind of distraction rarely improves individual play and team chemistry. More troubling, however, is Orlando's so-so starting back court. At a mere six feet short - and that's probably being generous - Nelson is undersized and gets regularly pushed around by the league's bigger guards (which is just about everybody). Keith Bogans is, technically speaking, a starting shooting guard in the NBA, but his defense and shooting (41 from the field, 36 from three) are both "eh," and he can't really break his opponents down or create his own shot attempts. The team's depth is more than a little iffy, as meaningful production from the Redick, Pietrus, Battie, Lee and Brian Cook combo platter is hardly a sure thing. And, finally, this team has
Shaqnopsis
at the charity stripe: In 2007-08, the Magic were third in the league in free throw attempts (28 per game) but only 27th in free throw percentage (72.1 percent). As we all know, a few missed 'throws here or there often means the difference between winning and lo-hoo-hoosing.
Fun Facts:
Dwight Howard had 69 double-doubles last season, tops in the league. He also racked up eight double-doubles in Orlando's 10 playoff games. In 2007-08, Howard was hacked on 30 percent of his shot attempts, also tops in the league. By, like, a lot. (Amare Stoudemire was second at 24 percent). Alas, despite leading the NBA in free-throw attempts (897), Howard shot a slightly-better-than-Shaq 59 percent at the line. Now here's a shocker for you: The Magic have shot an average of 46 percent from the field over the last five seasons, and that's better than any other team in the Association. (Yeah, I couldn't believe it either.) Like the Bulls, Heat, Raptors and Jazz, the Magic have a team rule that prohibits the wearing of headbands by its players during games. The Magic have only one retired number: 6 for "The Sixth Man - The Fans." Note that the number unretired in 2001-2002 for Patrick Ewing. Scott Skiles is Orlando's all-time leader in assists with 2,776.
Videotastic extra:
The Magic's mascot, Stuff, would do anything for love. But he won't do that. No he won't do that.