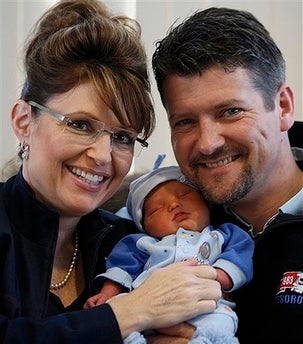 Sarah Palin recently did an interview for the upcoming issue of People Magazine in which she, among other things, refers to herself as "an intellectual," and lists some of the publications she reads on a regular basis. But later in the article, almost as an aside, she speculates on the name she would give her sixth child, should she and husband Todd decide to add to the family. Now I'm no political expert, but in an already volatile election in which her ticket is down in the polls, the following revelation may not have been the wisest choice. But I'll let you be the judge. From the Washington Post :
Palin said if she and husband Todd had had a sixth child, they had already picked a name for a boy joining siblings Track, Bristol, Willow, Piper and Trig. "I always wanted a son named Zamboni," she said. The magazine will be on newsstands Friday.
I just pictured John McCain reading that quote, then slowly and deliberately removing his reading glasses, setting them on the end table, then carefully picking up a small but sturdy mallet and vigorously smashing himself in the forehead with it 12 or 14 times.
Palin Says She Considers Herself Intellectual
[Washington Post]