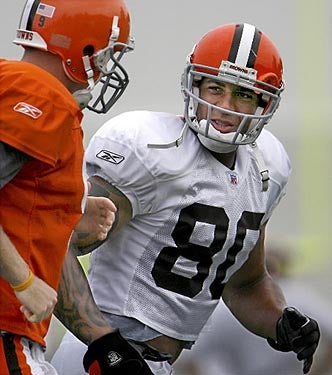 So to bring you up to speed here, Browns tight end Kellen Winslow says that he's been disrespected by his team; Cleveland general manager Phil Savage says Winslow has a big yap and deserved to be suspended; and everyone involved is airing their grievances through the media. Meanwhile, the Browns medical staff, badly outnumbered and armed only with sterilized sponges and a few bottles of Lysol, are currently battling a formidable bacteria army in and around the team's locker room facility. And that's your Cleveland Browns recap! Winslow's appeal of his one-game suspension has been pushed back to Tuesday, meaning that he will miss Sunday's game in Jacksonville, so adjust your fantasy rosters accordingly. Winslow is seeking to recoup his $235,294 game check from last Sunday, lost when the Browns suspended him for one game for "conduct detrimental to the team." The ruling, however, will not likely end the controversy surrounding Winslow and his medical condition . Sports' weirdest controversy centers around Winslow's condition, at first believed to be some sort of swelling of the testicles, then identified as a staph infection. When Winslow wanted to speak out about the true nature of his condition — and what he perceived as insensitivity by the Browns toward him while he was in the hospital — the team slapped him with the rather large penalty. At this point it's not even certain that Winslow actually had a staph infection. But one thing is certain: Staph has become an epidemic in NFL locker rooms, and most teams, like the Browns, are going to great lengths to keep it quiet. This certain strain of staph — or, Staphylococcus aureus, as it should be referred to at formal dinner parties — is a bacterial infection that's resistant to the broad-spectrum antibiotics commonly used to treat it. It's something that until 10 years ago cropped up mainly in hospitals or nursing homes, but recently a certain strain has emerged in the professional sports community. "Modern professional athletes have been taking antibiotics since they were kids, and quite simply, many of them have become resistant," said Alice Barron, director of OrthoSport Physical Therapy in Elkridge, Md., who was formerly on the athletic training staff at Stanford University. "Infections in pro sports settings have run rampant, period. You're seeing it now with healthier people." In two of the more higher profile cases, Tom Brady has had setbacks in his rehabilitation due to knee infections, and on Thursday it was revealed that Peyton Manning had a staph infection that delayed his recovery from a knee injury this season.
"Staph or MRSA infections develop from person-to-person contact, shared towels, soaps, improperly cleaned whirlpools and sports equipment," said Ron Courson, head athletic trainer at the University of Georgia in Athens. "Such infections usually appear first as pimples, pustules and boils. "The pustules may be confused with insect bites in early states. The infections may also be associated with previous existing turf burns or abrasions. Without proper referral and care, more serious infections may cause pneumonia, bloodstream infections or surgical wound infections."
Winslow says that he spoke out about his condition to, in part, protect his teammates. But Savage appeared on WTAM radio in Cleveland on Thursday saying that Winslow "really called into question the integrity of our medical staff and our organization. "After all of us had been through since 2005, the comments really called into question the integrity of our medical staff and the organization as a whole," Savage said. "To compromise that trust after the Browns had stood by Kellen through the motorcycle episode and knowing without question we had done everything in our power to combat this staph infection problem, it just showed a lack of professional restraint. "The Browns are bigger than one person, bigger than Randy Lerner, bigger than Romeo Crennel, bigger than me and bigger than any player on this team. "We couldn't and won't allow one person to tear down the organization, so we had to do something." Who is right here? Does it matter? There's a bigger problem at large than Winslow or the Browns; the NFL has itself a nice little epidemic, and needs to step up and address the problem.
Official Statement On Community-Acquired MRSA Infections
[National Athletic Trainers' Association]
Winslow Case Set For Tuesday As Savage, Rosenhaus State Their Cases
[Cleveland Plain Dealer]