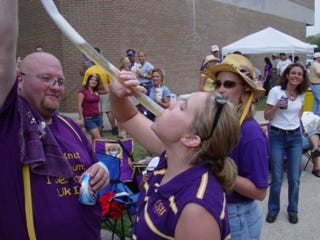 LSU fans aren't only the most insane in college football, they're also the most resourceful. Perhaps insanity and resourcefulness aren't conflicting traits after all. Why do I say this? Because for the second year in a row LSU fans have made the cell phone lives of their opponents miserable. You'll recall that last year LSU students memorably flooded Tim Tebow's phone with harassing calls. This time they pulled off the daily double,
tapping into Knowshon Moreno and freshman wide receiver A.J. Green's phones
in advance of their game against Georgia. Will this turn the proverbial tide in favor of the Cajun crazies, or will Georgia's top stars rally around each other in the face of the coonass onslaught? (By the way I learned from Nick Saban that
coonass
is a term of Cajun endearment. So put down the Al Sharpton hotline.) Anyway, here are the 9 most interesting games of the weekend. Enjoy. You dirty coonasses.
Texas Tech at Kansas (-1)-
Mike Leach and Texas Tech are 7-0 but this is the first time they've been underdogs all year. After cruising through the easiest part of their schedule with only an overtime game against Nebraska as the least bit of a challenge, Texas Tech gets Kansas then Texas and Oklahoma State followed by a road game at Oklahoma. Yeah, we'll find out for sure whether those Graham Harrell passing stats (over 2,700 yards passing and 23 touchdowns) can stand up against the big boys. One thing to keep an eye on? Texas Tech's kicker made a 30 yarder during a break against UMass. That's not that big of a deal until you consider that it was a student during a timeout during the game. So impressed was Mike Leach by his form that
he's signed the kicker up and he could use him on Saturday
. Seriously.
Duke at Vanderbilt (-10)
- This is it for Vanderbilt—win and you're bowl eligible with 6 wins for the first time since 1982. Lose and the feel-good college football story of 2008 is about to become excruciatingly painful. As if that weren't enough, it's also homecoming. As an aside, will this game feature the highest average net worth among fans in the top division of college football? I'm thinking so. Northwestern-Duke has to be the only competition. Potential slogan for Vandy kids: "Our rich girls are hot."
Virginia Tech at Florida State (-5.5)
Very quietly Florida State has moved to 5-1 on the season. Get past Virginia Tech and next week they go to Atlanta to play Georgia Tech. Then they get Clemson and BC at home before heading up to Maryland to play the most unpredictable team in college football this year. Regardless with Wake's recent stumbles it's starting to look like the Seminoles may have a shot at representing the Atlantic Division in the ACC Championship Game. And let's be honest, you had no idea FSU was 5-1, did you?
Georgia at LSU (-1)
One of the two most evenly matched games that will go a long way toward deciding who represents the SEC in the Championship Game. Lose and LSU has to not only beat Alabama on November 11 but they have to root for Alabama to lose one of their other three leagues games. Win and their game against the Tide will probably decide the SEC West. Meanwhile Georgia's season is effectively going to come down to the Cocktail Party to see who represents the SEC East. Even still, if the nation's preseason number one team has any hope whatsoever of making waves in the national title race, they have to win this game.
Michigan State (-4) at Michigan
The Wolverines have won 6 in a row since the clock miraculously didn't run in East Lansing in 2001. For Michigan State this is tough, your hated rival who has owned you half a decade is 2-5. Michigan is averaging just 18.9 points a game, has already lost at home to Utah, Toledo, and Illinois, and looks incapable of beating any decent team. Yet still, the Spartans are nervous. I know the feeling, there's nothing worse than getting beat by your hated rival even when the hated rival sucks. This defined my adolescence in UT-Alabama games.
Oklahoma State at Texas (-12)
Texas has won 10 in a row in this series but that was before Mike Gundy added Trooper Taylor and his backwards baseball cap and chest bumps to the sideline. Since that addition Oklahoma State has won every game but one (a 28-23 road win at Missouri) by at least 19 points. How surprising has this rise to number 7 in the nation been? Oklahoma State wasn't ranked in the preseason and this is the highest they've been ranked since 1985. Now they roll into Austin to continue the onslaught of top teams getting ridden roughshod by Colt McCoy and his 81% completion percentage. Texas averages 48.1 points a game while Oklahoma State averages 46.4. Break out the popcorn.
Alabama (-5) at Tennessee
I said it on Monday and I'll say it again now, Alabama is going to lose this football game. Come very late Saturday night those of you who aren't well-acquainted with Tennessee defensive back Eric Berry will be a significant minority of the sporting population. He's going to be that dominant in this game. But first Tennessee will have to survive the first half, when Alabama is outscoring opponents 171-23. No one's talking about the fact that Tennessee is bringing back the entire 1998 national championship team and honoring them all weekend. Meaning this is a circle the wagons type game. If you're a fan of any other team other than Alabama, you need the Vols to win because otherwise the Tide have a solid angle to the BCS Title Game. I'll be on the sideline. If I get Weis'd don't worry, I'll do the Arian Foster pterodactyl as they cart me off.
Penn State (-2) at Ohio State
Irony of all ironies, SEC and Big 12 fans should be rooting for Ohio State to win this game. Why? Because voters are still punishing Ohio State for sucking in the BCS Title game the past two seasons. Even if they beat Penn State and run the table the rest of the way, Ohio State's not getting an invite to the big game over a one-loss Big 12 or SEC champ. But Penn State would. Plus Ohio State still has a legit shot of losing at Northwestern or at Illinois. Meanwhile Penn State's toughest remaining game is at Iowa (sorry Michigan State you're losing at Penn State and it's not going to be close.) When it comes to the BCS, it's all about
strategery
. If you're from the Big 12 or the SEC, you need Ohio State to win.
Southern Cal (-15) at Arizona
Since losing to Oregon State USC has outscored its last three opponents 141-10. Last week against Washington State Mark Sanchez had five touchdown passes to tie the USC all-time record. Which sounds pretty impressive. Except when he threw his last touchdown pass there was still 4:51 remaining…in the second quarter. As if this offensive onslaught weren't enough USC's only giving up 7.8 points per game on defense. In fact USC has outscored their opponents this year, 249-47. Even still, Arizona controls their own fate in the Pac-10 and in a perhaps ominous memory for USC, trots out their own pint-sized freshman running back in Keola Antolin. So far it's been unquestioned logic that USC is going to be the top ranked one-loss team at the end of the season; this will be the least they're favored by for the remainder of the season. Better join the 'Hoff and start cheering for the Wildcats.