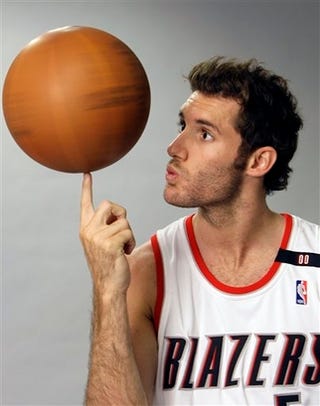 NBA training camps have begun; the season is rapidly approaching. Can you dig it? I knew that you could. And so we continue our previews: 30 of them in 30 days. Up next is a team that may be - just maybe - the next big thing. They are: The Portland Trail Blazers.
When last we saw them:
Finished 41-41, third in the Northwest Division and a "the future is bright" 10th overall in the West.
Here they come:
Brandon Rush, Ike Diogu, Jerryd Bayless, Luke Jackson, Nicolas Batum, Rudy Fernandez, Shavlik Randolph
There they go:
James Jones, Jarrett Jack, Josh McRoberts, Von "I'm not a German sugar cookie" Wafer
The Good:
The team is smart and disciplined, both on offense and (even better) defense (where they ranked eighth in both opponents' field goal percentage and points allowed). There's this big guy, oh crap, what's his name again...? Oh, yeah, Greg Oden. Anyway, this relatively unknown kid out of
The
Ohio State University might just make something out of himself someday. All kidding aside, this guy is a double-double/shot-blocking machine waitng to be unleashed on the NBA. And Oden's mere presence is going to draw defensive attention away from his teammates. That should make life easier on Brandon Roy, who's Portland's best player (19.1 PPG, 4.7 RPG, 5.8 APG). Roy does and says all the right things and works tirelessly - seriously, he doesn't sleep - to improve his game. LaMarcus Aldridge can fill the hoop (17.8 PPG) and clean the glass (7.6 RPG). Travis Outlaw is quietly effective (13.3 PPG, 39 percent three-point shooting) and has a wicked-cool name. Steve Blake is relatively decent at the point and Jerryd Bayless is the heir to that throne. (It's okay, Steve. You'll make a great backup when that day comes!) Like Bayless, Rudy Fernandez is another one of those "gonna be really special someday" rookies. Martell Webster provides pointage off the bench. (Or he will when he returns from foot surgery, anyway.) Joel Przybilla is a Vanilla Godzilla on the boards. Plus, he blocks (or diverts) shots and won't complain about PT (which is a good thing now that Oden's back). Did I mention this team is deep? They ranked fifth in bench points (34.0 per game) last season...and they added even
more
good players. The sky's the limit for this bunch.
The Bad:
This team's biggest obstacle in the immediate future is managing expectations. Sure, they won 41 games last season, but, to be frank, they overachieved to do it. Seriously, they ranked pretty poorly in several major statistical categories: 30th in steals (5.5 per game), 29th in forcing turnovers (12.5), 27th in scoring (95.4), 26th in free throw attempts (22.5), 21st in blocks (4.4), 20th in field goal percentage (.448), 20th in rebound differential (-1.01) and 18th in assists (21.1). From that perspective, it's surprising they reached the 40-win plateau in the ultra-competitive Western Conference. (And, indeed, according to
basketball-reference.com's Pythagorean W-L formula
, they should have won around 38 games). Yet many people expect the Blazers - due to the return of Oden and the arrival of Bayless and Fernandez - to jump from "plucky overachievers" to "championship contender." It might not work out that way this season. I mean, Bayless and Fernandez are rookies. For that matter, so's Oden. They're going to face the same learning curve every other NBA rookie has to endure. The Blazers are going to be superduper special someday...but that day might be a wee bit later rather than sooner. And that could take a toll on the team's psyche. Plus, it's great having a surplus of talent and all that, but it's going to be nearly impossible to give each player the minutes he deserves. That can lead to grumpiness and hard feelings on the best of teams. Also, I think they're going to miss James Jones - who shot a sizzling 44 percent from beyond the arc last season - more than most people suspect.
Fun Facts:
Last season, Portland was ranked dead last in fast break points (7.9 per game). They were also last in points in the point (31.2). The Blazers had three number one overall drafts picks before Oden: LaRue Martin (1972), Bill Walton (1974), and Mychal Thompson (1978). Speaking of which, the Blazers have taken their fair share of draft day criticism. And I'm not just talking about the Bowie-over-MJ thing. They chose Martin over Bob McAdoo (who would be named league MVP in 1975) and Thompson over Larry Bird (who was, you know,
Larry Bird
.) And going back to the Bowie thing for a second, Portland didn't just pass on Jordan, they also missed out on Charles Barkley and John Stockton. The Blazers greatest rivalry is with...a newspaper called
The Oregonian
.
Seriously
. Portland has retired numbers for eight players, a rather astonishing number for a team that's captured exactly one league championship. Those numbers are: 13 (Dave Twardzik, 1976–80), 14 (Lionel Hollins, 1975–80), 15 (Larry Steele, G, 1971–80), 20 (Maurice Lucas, 1976–80 and 1987–88), 22 (Clyde Drexler, 1983–95), 32 (Bill Walton, 1974–78), 36 (Lloyd Neal, 1972–79), 45 Geoff Petrie, 1970–76). Oh and apparently
everybody wants to dunk on Greg Oden
.
Videotastic extra:
Greg Oden really loved Transformers. That's fine and everything, but...four stars, Greg? Really? Are you sure you didn't sleep through the section between the opening and ending credits?