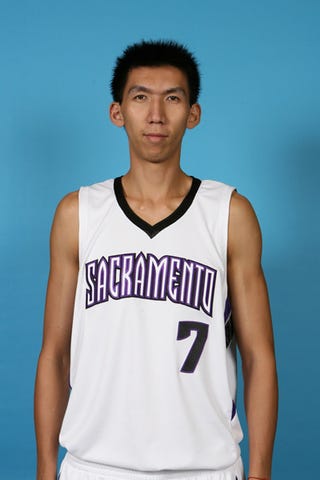 NBA training camps have begun; the season is rapidly approaching. Can you dig it? I knew that you could. And so we continue our previews: 30 of them in 30 days. Up next is a team that may get a royal flush right down the Western Conference commode this season. They are: The Sacramento Kings.
When last we saw them:
Finished 38-44, fourth in the Pacific Division and 11th overall in the West. I guess it's not so good to be King.
Garbage in:
Bobby Brown, Donte Greene, Jason Thompson
Garbage out:
Anthony Johnson, Ron Artest
The Good:
When a team is rebuilding - as the Kings have been for, like, several years now - it's best to start with a young star-in-the-making. And, fortunately for the Kings, they seem to have that in Kevin Martin. Last season, Speedracer - I refuse to call him "K-Mart" by the way - showed the Association that he can score with anybody (finishing sixth at 23.7 PPG), stick it from downtown (hitting 40.2 percent of his three balls) and slice his way through opposing defenses on his way to the hoop (which is probably why he hit a league-leading 8.2 free throws per game). John Salmons has the potential to be a better second-banana than most people realize. Sure, his season stats weren't that impressive, but
check out his splits
. When the big guns were out with injury (November through January), Salmons was lighting it up (15.2 PPG, 52 percent shooting, 40 percent from downtown), plus his length and defensive mindset makes him a nice two-way player. Brad Miller can still average near to a double-double on a nightly basis (13.4 PPG and 9.5 RPG). He's also a pretty decent passer - he was second on the team with 3.5 APG - and reasonably tough (although he's not much for mixing it up in the low post). Beno Udrih provides steady play at the point, even if his name does sound like some sort of anti-flatulence medication. (Again, check out Beno's
early and late season splits
...from when Bibby was out with injury and then after he was traded. Not bad. Not great, but not bad.) Francisco Garcia is a capable put-it-in-the-basket-er, Mikki Moore does the dirty work, and Spencer Hawes, Jason Thompson and Donte Greene give the team big bodies with loads of potential. Now that Ron "Cuckoo for Cocoa Puffs" Artest and Mike "I'm never happy" Bibby are finally gone, all these young guys will have a chance to develop, both individually and collectively.
The Bad:
The Kings can score (eighth in the league at 102.5 PPG last season) but can't defend (24th at 104.8 PPG). And now Artest, their best defender and only true stopper, is in Houston. Who's going to pick up that slack? Oh, and their ball movement is horrible: Sacramento ranked 29th in assists (19.1) and 30th in turnovers (16.1). Martin is good, but will he ever be anything more than Mitch Richmond: Part II? And, uh, didn't the team overpay for Udrih (five years, $32 million) and Garcia (five years, $30 million). There's no telling how much better - if any - those guys are going to be. Miller had a nice comeback season last year, but how much does he have left in the tank? Moore has been and always will be a severely limited player. The departures of Bibs and Ron-Ron opens the door for a youth movement, but it's impossible to tell who's going to hit and who's going to miss. At the end of the day, the Kings are comprised of one borderline All-Star, a few above-average veterans and a bunch of unproven young guys. That's bad news, especially in the West.
Fun Facts:
Mikki Moore last season led the NBA in shooting fouls, committing four hacks for every shot he blocked...not a good ratio. The franchise has played in five different cities since it was founded: Rochester, Cincinatti, Kansas City, Omaha and Sacramento. The Kings are yet another team that, inexplicably, has retired more numbers than the Lakers: 1 (Nate Archibald), 2 (Mitch Richmond, the only Sacramento player as yet honored) 6 (Sixth Man, i.e., The Fans), 11 (Bob Davies), 12 Maurice Stokes), 14 (Oscar Robertson), 27 (Jack Twyman), and 44 (Sam Lacey). As the Royals, the team won the NBA title in 1951 by defeating the Knicks, four games to three. It is the franchise's one, lonely title. Their D-League affiliate is the
Reno Bighorns
.
Videotastic extra:
Nice hair, Brad. However, Gene Keady does not approve.