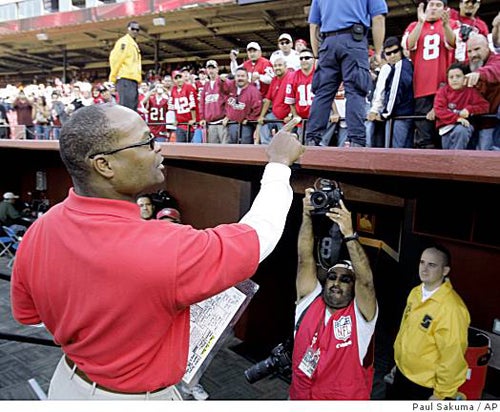 The forecast for the San Francisco 49ers season changed dramatically on Sunday from dismal to dangerous; like the difference between a cold, monotonous drizzle and a lightening storm in the mountains. And we can thank Mike Singletary for that. Not only did the 49ers' new interim coach pull a player out of the game and tell him to "take a shower and go sit in the stands," but he went to the sidelines and apologized to the fans (pictured here) following his team's stinky 34-13 loss to the Seahawks. The spectacle then continued with a post-game rant. The 49ers season, of course, could now not be more doomed ... or more fun. The highlight came when Niners tight end Vernon Davis was penalized 15 yards for slapping the facemask of a Seattle player after a reception, and when he came off the field, appeared to shrug off Singletary, who was trying to talk to him. Bad move. Singletary kicked Davis the hell out of the game. Post-game press conference:
"I will not tolerate players who think it's about them when it's about the team. I'm from the old school," Singletary said. "I believe this: I would rather play with 10 people and just get penalized all the way until we got to do something else, rather than play with 11 when I know that right now that person is not sold out to be part of this team. Cannot play with them. Cannot win with them. Cannot coach with them. Can't do it. I want winners."
Davis tried to apologize to Singletary afterwards in the locker room. Another bad move.
"He wanted to talk to me," Singletary said. "I told him he did not want to talk to me."
Video of Singletary's remarks here
. Oh, and Singletary also pulled J.T. O'Sullivan in favor of Shaun Hill just before halftime. Singletary approached offensive coordinator Mike Martz just before pulling the quarterback and held out his arms as if to say, "WTF?" So, is there any doubt who is in charge here? No f-ing doubt. If you're going to lose, at least you get the good fortune of watching a coach who makes Ditka look like Orville Redenbacher. I truly believe that Mike Singletary will go on a killing spree before Christmas; perhaps
on
Christmas.
Throw in Condoleeza Rice
and we've got ourselves one enormous party. My only regret is that Singletary was not the coach when Terrell Owens was here.
Only Way To Go: Up
[San Francisco Chronicle]