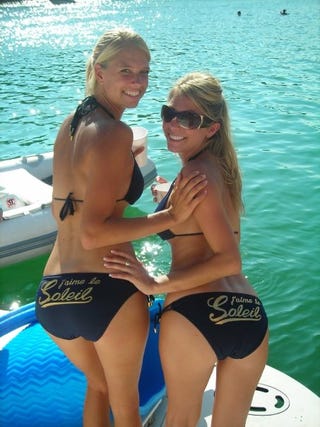 I neglected to do this last week when I was supposed to, but since I am nothing but a company man through and through, I'm requesting you to please sign up for Deadspin's Top Stories of the week email.(It's over there on the left near the long-ass masthead.)
Do so here
. Now you can see for yourself which Deadspin stories were deemed "top worthy" by a Gawker robot cooped up in their fancy offices in SoHo. Oh, and that's Colt McCoy's girlfriend,
Rachel Glandorf,
on the left. I think. I can't tell. She's not holding a microphone in that photo. Deadspin Top Stories [
Deadspin
] *************** So, I'm staying inside tonight, forced to wait a full day with my soaking wet Game 5 ticket stubs to see how this shit goes down. I am no longer filled with the disorienting positivity I was just 24 hours ago. No, now it's impending doom. But thank you for your continued support of Deadspin. Do stop by tomorrow, won't you? Don't
SKEETS
all over yourself looking at that picture of Colt McCoy's girlfriend. Later.