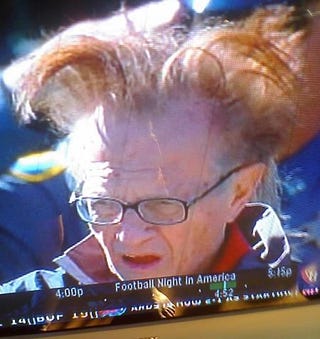 There's nothing worse than waking up with a pounding in your head from the festivities the night before, except when that pounding is literal because of people
doing construction upstairs at 8 in the morning!
I'm not paying my rent this month. But enough about me, what about Hugh? Not much going on yet this morning, as everyone except the Big Ten seems to still be wiping off their makeup and getting out of their pantyhose. Michigan and Wisconsin are in an old fashioned shoot-out, Michigan State is getting ready to tank in the 2nd half of the year yet again, and Northwestern is holding their own against Minnesota. But the best part about college football this morning is the mass amount of costume shots. Greatest cameo I've seen so far: Green Man from "It's Always Sunny in Philadelphia" at the MSU-Wisconsin game. If anyone has a few screenshots of costumes they've seen in the stands, please send 'em our way. But enough about my nonsense. What say you?
s2nblog:
ESPN gave Old Man Corso guns again when he made his pick — all he needed was a "rassa-frassin" and we had Yosemite Sam on our hands.
drscooter19:
If I'm Ray Bentley, I'm telling ESPN to fire me or I'm killing myself on air. Pam Ward's adam's apple is REALLY putting on a show today.
Zombie Jesus X:
So, did everyone else, after waking up from a Halloween hangover and seeing the Jordan Shipley-Colt McCoy fishing buddies story, wonder why ESPN was airing "Brokeback Mountain"?
JelloMan:
Tebow has his revenge ready. You thought T.O. and the Sharpie was cool? Tebow is going to sign the goal post with half of Leviticus and then circumcise Uga VII.
And let's end it again with s2nblog, who gets a rare double dip into the Hugh pool by showing off his literate nature:
s2nblog:
Mike Kafka, who has not started for Northwestern in two years, is putting Minnesota's defense on trial.
Booya, Kafka!