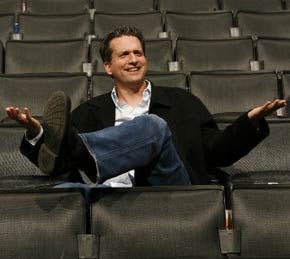 If you're a regular reader of ESPN.com, you probably noticed that Bill Simmons's NFL picks column didn't hit the web this past Friday. Well, according to the Sports Fella, ESPN elected not to publish it. The tension between Simmons and his employer, ESPN, has been well documented and the latest bit of news will do nothing to dispel the widely held belief that the two simply don't get along anymore. For reasons that have yet to become clear, the "Leader" decided not to run Simmons's Friday picks column (normally a staple on ESPN.com during the NFL season), but you can still check out his picks ... on
his personal blog
. As you might imagine, Simmons is less than pleased with ESPN's decision not to showcase his work, and you can practically feel his rage when reading the post.
I received a slew of e-mails yesterday wondering what happened to my Friday NFL column and blaming me for being lazy and all the usual crap. Please know that I handed in that column as scheduled - on Thursday night, on time, like I always do — and on Friday afternoon, ESPN.com decided not to run the column. These are the facts. Anyway, here were my Week 9 picks for posterity's sake. ... We are on the record.
We certainly are, Bill, we certainly are. My guess is that ESPN will have some kind of a response to this early next week, but this is clearly far from over. One can't help but get the feeling that this shall not end well for everyone involved.
Week 9 Picks
[Sports Guy Unplugged]