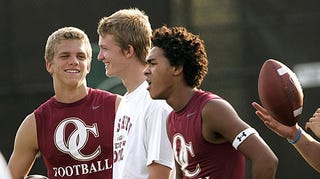 Here are Nick Montana, Trevor Gretzky and Trey Smith, all of whom play football at Oaks Christian High in Westlake Village, near Los Angeles, and whose rather famous fathers don't have much trouble paying the school's annual $21,640 tuition, I'm guessing. If you want to witness a hilarious sight on a Friday night, check out an Oaks home game, where more people are watching the stands than what's happening on the field. It's the only high school snack bar that sells autograph pens. Joe Montana, Wayne Gretzky and Will Smith are usually in attendance, with an occasional Tom Cruise thrown in for laughs (he's friends with Gretzky). This all makes Oaks Christian the LA Lakers of prep sports, only without so much Jeremy Piven. You of course know this small Christian school as
having produced Jimmy Clausen
— what, you don't? — and Marc Tyler, son of former LA Rams and SF 49ers running back Wendell Tyler. Montana, a junior, transferred from De La Salle in Concord, Calif., this fall and is now the starting quarterback. Sophomores Gretzky, also a QB, and Smith, a receiver, are on the junior varsity. All of this has earned the school the nickname Celebrity High, and has also helped make it the pariah of SoCal prep football. The only private school in the Tr-Valley League, Oaks Christian has won five consecutive Southern Section championships and is 8-0 this season, having
outscored opponents 378-41
. The Lions have won their past three league games by scores of 61-0, 56-0, and 54-0. Not exactly in the spirit of balanced team athletics, according to the league,
which wants them out
. The only problem is that Oaks has nowhere to go; no other nearby league will take them, due to the fact that Oaks gives partial scholarships (recruiting is such an ugly word). It's estimated that 25 percent of their players receive some sort of financial aid. If the Steinbrenners lived on the west coast, this is the school their children would attend.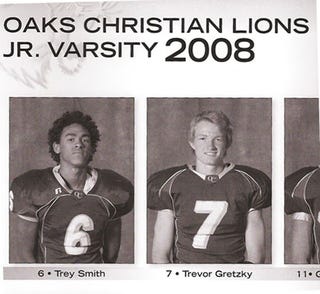 I checked out a game a couple of weeks ago and Oaks went up 14-0 while I was parking. Here's
the exciting halftime result
. Montana hit receivers at will; which may be difficult at the next level, because he's kind of small. He's listed as 6-foot-2 in the program that the aggressive child actor in the stands sold me, but that's being way generous. At any rate there is zero competition here for him; but more than he would have had at De La Salle watching from the bench. The abilities of Gretzky are unknown ... why isn't he playing hockey again? And as for you, Smith, tell your dad he owes me $10.50 for
Hancock
you fucker.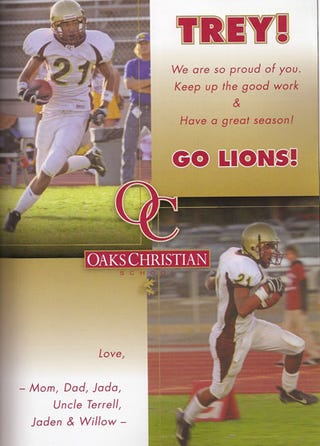 Oaks Christian In No-Win Situation
[RivalsHigh]
Clausen, Oaks Christian Lighting Up Defenses
[USA Today]
Photo Gallery
[Los Angeles Times]