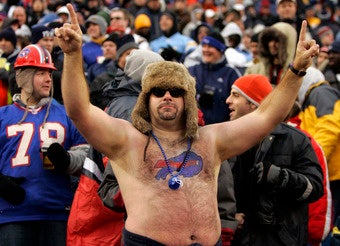 Orchard Park police arrested 37 people at Ralph Wilson Stadium on Sunday, but none more special than the two found creating a "public disturbance" in the 300-level women's restroom during the Jets-Bills contest. It seems that watching Trent Edwards getting piled on while Jay Feeley seduces the uprights creates such an erotically charged environment that one couple could not contain themselves any longer. That's right—they got busy in the Buffalo Bills bathroom .
The call came out early in the third quarter Sunday to investigate numerous complaints of a commotion in a ladies' restroom across from Section 336 in Ralph Wilson Stadium. It didn't take security officers long to figure out the cause of what police later called a "public disturbance" in the restroom. A woman, law enforcement officials said Monday, was having sex with her boyfriend in a bathroom stall.
The boyfriend also managed to slip a resisting arrest charge in there, which just adds a whole other level of class to the situation. Hey, the beer-soaked heart wants what it wants. •
"'Disturbance' at Ralph was couple having sex in ladies' restroom"
[Buffalo News,
via
]