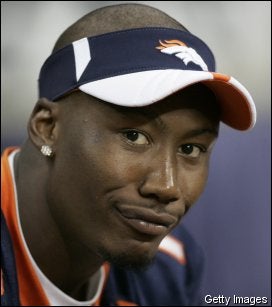 The Miami Dolphins walloped the Denver Broncos this past Sunday 27-16 and leading the post-game victory gloating was, of course, linebacker Joey Porter. After the victory, the nine-year veteran called Broncos wide receiver Brandon Marshall "soft" and said the Dolphins defense "got into his head" , resulting in a piss-poor, two catch, 27-yard performance for Marshall. Most of the time players on the opposite end of a Porter diss ignore it and take the high road. Not Marshall. No, even after a loss, he wanted to let the people know what he (and the rest of the league, apparently) thinks about Porter:
"Joey Porter is one of those guys who, when you've got one of those guys that talk a lot of trash and just want to talk about people or put people down, they have their own insecurities. His insecurities, I don't know, but he's definitely one of those guys who, you know, all those muscles are popcorn muscles, he's soft. We hear stories floating around the league all the time about him you know, in night clubs dancing with his shirt off like a girl or on the playground getting beat up in California. He's one of those guys that you know, no matter how big he is can get knocked on his butt. He's soft, he's soft at heart and you can tell by the way he's talking. His nickname is Peezy, I don't know what "Peezy" is, Joey.
According to the always helpful
Urban Dictionary
, "Peezy" is defined as "someone who is not just fly...but EXTRA fly." So ....that's good? I guess Marshall should learn how to be less complimentary with his trash-talking.
Marshall fires back at Joey Porte
r [Denver Post]
Joey Porter: Brandon Marshall is soFT
[Shutdown Corner]