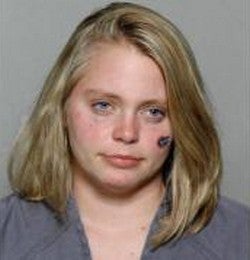 Meet Veronica Hairston, frequent motel guest and passionate Florida Gators fan. Yep, that's a temporary Gators tattoo on her cheek there. On Saturday Hairston and her husband were enjoying the Florida-Georgia game at a Neptune Beach Day's Inn when things got out of hand. As Florida began putting the smackdown on Georgia, Veronica did the same with her hapless Bulldog-fan hubby, first taunting him and then biting him when he tried to leave. According to police, she then "fled on foot" — three words which might as well be translated to Latin and adopted as the university's motto.
On Saturday Hairston began taunting her husband at the Days Inn in Neptune Beach once she realized the Gators were beating the Bulldogs. They said when her husband grabbed his bags and tried to leave the room, Hairston bit the man on his thigh. A police report states that Hairston then punched her husband in the face several times with her fists before fleeing the area on foot.
Quite unbelievably, alcohol may have been involved.
Here's some video
.
Police: Wife Bites Husband Over Fla.-Ga. Game
[News4Jax]