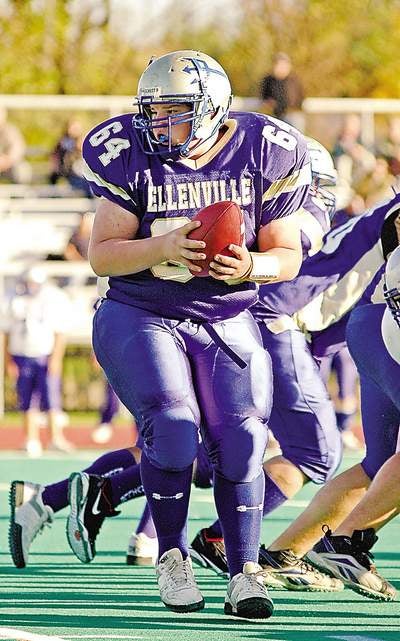 Usually, "freak of nature" is a moniker reserved for an overly-gifted athlete with little regard for his teammates or the intricacies of game. But Ellenville (NY) High's Tony Casamento is a little bit different. Tony has to be the heaviest quarterback in America, checking in at a svelte 309 pounds. He tried out at QB on a lark, winning the backup job, and found himself under center last week when their starter got hurt. Sure, he kinda looks like a hippo in tutu dropping back like that, but he's really living the dream of fat sports fans everywhere, coming off the bench to lead his team to a playoff win.
That's just where the story would end if not for Casamento suddenly landing the task of quarterbacking Ellenville to the Section 9 Class C [sic] championship. He took over for the Class B semifinal last Friday after starter Sebastian Constable had an appendectomy two days earlier. Casamento smoothly led Ellenville to a 56-13 win over Millbrook. Now he will try to lead Ellenville to the sectional title over Sullivan West on Saturday. "People laughed at me when I said he's a quarterback in a lineman's body,'' said Ellenville coach Tony Borriello. "But he really is. It's unfortunate that God gives us certain things, but you gotta deal with it.''
Tony's extra weight come from his slow metabolism and his passion for food. My extra weight comes from personal self-loathing and sitting with a laptop all day. To each his own.
Casamento redefining QB position
[Varsity 849]