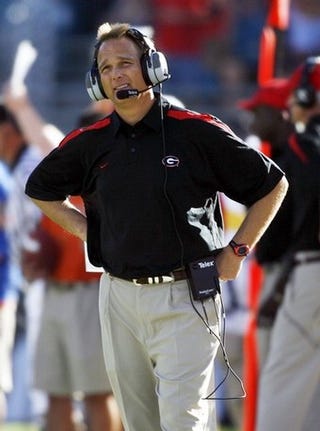 So this Georgia - Kentucky game has been nipple-hardeningly amazing. It's just back-and-forth awesomeness with scoring abound. And now Georgia just turned the ball over back to Kentucky, and it's becoming more and more likely that Georgia might be taking home another loss in their disappointing season.
UPDATE: Stafford just put Georgia ahead with some badass scrambling and then somehow completing a TD pass in quadruple coverage. Fuck. Me
. We have some nooner finals and a dose of Hugh after the jump.
Pittsburgh 41, Louisville 7.
The Cardinals continue to struggle. Hunter Cantwell threw two picks, along with four team fumbles for good measure. Pitt somehow has come back from the veritable dead, as Dave Wannstedt finds himself at 6-2 with a level of job security that would have seemed unfathomable two months ago.
Ohio State 45, Northwestern 10.
I don't understand Jim Tressel. He waits until the week after the biggest game of the year to start Terrelle Pryor, who might already be his best player on offense. And then today he fakes a punt with a 20-point lead. You, sir, baffle my sensibilities.
Michigan State 21, Purdue 7. North Carolina 28, Ga. Tech 7. Texas 45, Baylor 21, 4th Quarter.
As good as over, really, but not as good as Hugh.
Kentucky blocks a punt and soon after takes the lead on Georgia. All the people without teeth rejoice!
[Nine minutes later]
Kentucky no longer leads... people without teeth, return to sleeping with your cousins now.
—Anskyman2004
as they repeatedly fumble the football, it becomes clear that after losing to a nerd school last week, the gophers finally realized they were... the gophers. thus began the downward spiral from dreams of a possible rose bowl to just hoping for another disastrous motor city bowl berth. ah, humility.
—SpaceCowgirl01
as a purdue fan and a fan of the forward pass watching the Purdue / Mich St game is like being stabbed over and over in slow motion for 3 and a half hours...
—JoeyJoeJoe Man Pryor is now dodging those sacks when the plays break down, and therefore making me wonder what he could have done in a real offensive system, unlike the Sweater Vest's "run, run, pass" formula. —Signal2Noise
[You and me both, brutha. —Ed]
Photo via Getty Images.