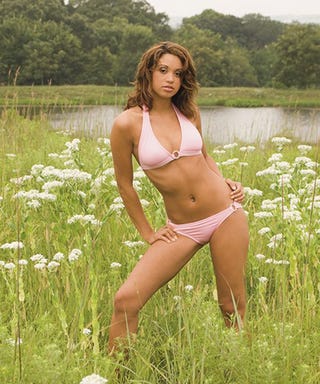 As if Larry Johnson didn't have enough problems — he's returning to active duty this Sunday for the tragic factory fire that is the Kansas City Chiefs — now he's being sued. Johnson allegedly spit on this woman, Ashley Stewart, during an altercation in a Kansas City nightclub last month, so she's taking him to court. Just as soon as she leaves this marsh (look out for snapping turtles!). The
lawsuit accuses Johnson of negligence
, assault and battery, intentional infliction of emotional distress and negligent infliction of emotional distress for the incident at Club Blonde, in which he is said to have spit a drink in Stewart's face, and added the fun quote: "Im going to kill your boyfriend."
"This is not about money," said Kirra N. Jones, Stewart's attorney. "My client has worked her way through school. She's in the Air Force, National Guard. She's a hardworking student and this really came as an unfortunate incident in her life. But you know what? She's a fighter. She's willing to be the person who finally makes Larry Johnson answer for his repeated bad behavior."
Johnson already had a court date on Dec. 5, in which he is accused of assaulting another woman. But he has a more immediate problem, namely the New Orleans Saints, who will no doubt welcome him warmly after his four-week layoff. Forecast for Kansas City the rest of the month: Small dark cloud hovering over Herm Edwards, with chance of intermittent shitstorms. UPDATE:
Arrowhead Addict reports that the pose
shown above is from the Women of KU calendar from 2006, at womenofKU.com. They also say that the woman is "allegedly" Ms. Ashley Stewart.
Larry Johnson Got Sued
[The Worldwide Leader]
Woman Sues Chiefs RB Larry Johnson Over Bar Spat
[International Herald Tribune]