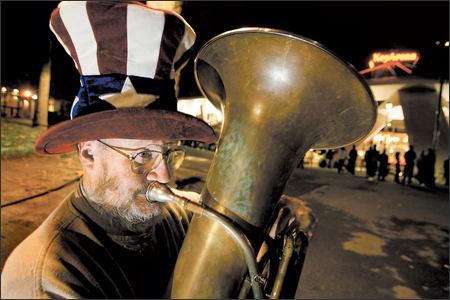 Seattle is known for its characters, from the guy who waited in line outdoors for four months to see one of the Star Wars prequels, to artists who create giant freeway trolls , the city has always embraced the odd and the colorful. But one of those unique voices has been silenced, sadly. I used to see The Tuba Man outside of SuperSonics games at Key Arena, at the south end of Safeco Field, and around town, outside of the Seattle Opera and other places. Edward McMichael was never without his trusty tuba, the perfect accompaniment for the state of Seattle sports, at least in recent years. But McMichael, 53, died recently after being beaten and robbed by a group of teenagers in downtown Seattle on Oct. 25. He died of apparent injuries two days later. Police arrested two suspects on the scene and are looking for three more. A memorial is set for Wednesday night at Qwest Field Events Center. From the Seattle Post-Inteliigencer :
He could have made a living in a band but chose to play for tips outdoors. Even in the rain, he would set a bucket at his feet for tip money, right next to jugs of his favorite drink, either V8 or Sunny Delight. Then he would purse his lips to his contrabass tuba — "My baby," he called it — and create low, noble sounds. McMichael appreciated when people would stop and listen, or leave a buck or two. But for him just meeting folks was the biggest reward. "That's what I value most," he said when I caught up with him last year. "People."
Goodbye, Tuba Man. You will be missed.
Violence Takes Iconic Tuba Man
[Seattle Post-Intelligencer]