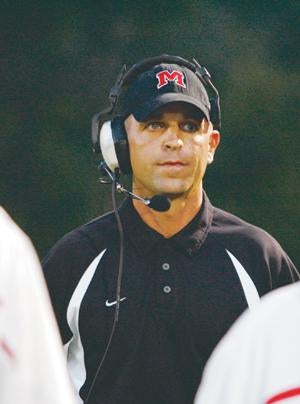 Poor Stacey James. Fresh off of the Caitlin Davis fiasco from last week, the Patriots executive director of PR has found himself answering more uncomfortable questions about persons loosely affiliated with the team. This week, it's Marblehead High School Coach, Doug Chernovetz (pictured), who was awarded "Coach of the Week" from the team for steering the once putrid Magicians to their first winning season in 16 years. The problem is, Chernovetz is entangled in a messy legal suit with one of his former players.
[The] lawsuit filed by former player Tim Morris, who claims Chernovetz assaulted and berated him. The suit, alleging emotional distress, contends Chernovetz was abusive to Morris and many of his teammates. He's accused of telling an African-American player: "Go back to the 'hood and sell drugs." And to a Jewish player who left practice early during Yom Kippur, the coach is alleged to have said: "Go home and choke on your matzo balls."
James stated that there is no formal vetting process for these type of awards, but vowed the team would look at the nominated coaches a little more closely from now on. Now, go home and choke on your matzo balls!
A new look at the Kennedys (second item)
[Boston.com]