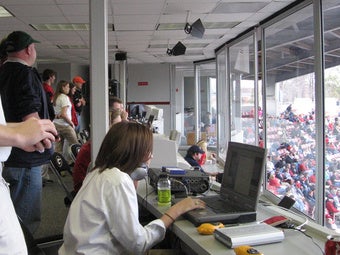 The Philadelphia Eagles are one of the most notoriously uptight teams when it comes to their public image so this little blurb in John Gonzalez's Inquirer column today comes as no surprise. It turns out that the team's press box is outfitted with a web censoring device, similar to the ones found in stuffy corporate offices all across the country designed to keep employees from mindless web-trolling or downloading animal porn on the company's dime. But it does seem odd that the press box of all places would be equipped with this type of block. Here's a list of the banned sites from Lincoln Financial Field:
Naturally, all gambling and pornography pages are barred. No surprise there (though it's a touch disappointing). Curiously, the media are also prevented from accessing a staggering number of entirely reputable or innocuous sites. Slate, Politico and The Nation are prohibited. Deadspin, Kissing Suzy Kolber and The Big Lead are all banned. Bleeding Green Nation is forbidden, and Top 100 Bloggers (which merely links to a number of blogs) is also off-limits. A few other sites that have been deemed verboten by the Eagles' manipulation machine: Facebook, MySpace, YouTube, Flickr, Google Finance, Gawker and AOL Instant Messenger. Strangely, The 700 Level - one of the most critical, well-read local blogs - has not been blacklisted by the Eagles. That's a little like locking up your house before going to sleep but forgetting to retrieve the spare key from under the mat.
Okay, so is this typical? People who work in press boxes, please let me know. Do other team press boxes have arbitrary bans on websites they deem "inappropriate" to look at while you cover the games?
A bailout for 'Boys? (third item)
[Philly.com]