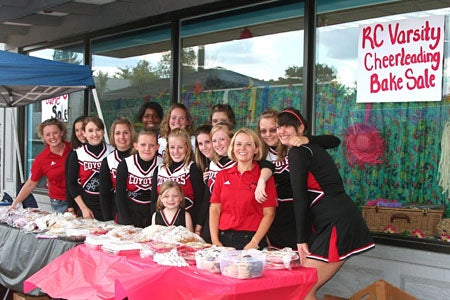 When it comes to high school sports, I'd much rather be on the football field in pads where it's safe, rather than face the sneaky, vicious wrath of the cheerleaders. It happened in Texas (of course), where members of an El Paso high school cheerleading squad baked up a batch of cupcakes for cheerleaders from a rival school, with an extra special ingredient not usually recommended by Martha Stewart; rat poision. (Those aren't the cheerleaders in question in the photo, by the way).
Exchanging gifts and pranks is a tradition among Texas high school dance and cheerleading teams before football games. But the parents from Andress High School in El Paso said putting poison and laxatives in brownies and cupcakes and giving them to unwitting rivals is well beyond a prank. Bea Saenz, whose daughter is on the Andress dance team, told the El Paso Times she wants the students from the school's cross-town rival, Chapin, to face criminal charges. "We felt like they weren't out just to play a prank," she said. "With all the stuff they put in there, it is like they were trying to kill them."
Nothing remotely funny about this, until you realize that the baked goods were confiscated before anyone ate them. Then you picture what the scene must have been like when Chapin cheerleaders were in the kitchen baking up their scheme. "Amber, you're using too much bleach!" "Shut up, Kayleigh!" (Metamucil fight ensues).
Nothing Tastes Better Than Rat Poison
[Fan IQ]
Girls Allegedly Poison Rivals' Treats
[UPI]