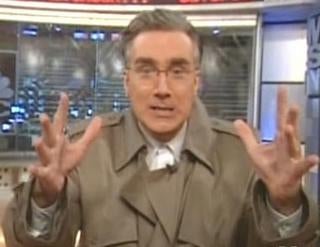 So I'm watching
Countdown
last night and what should appear during the Oddball segment but this,
the video we posted yesterday
of the girl vs. the bathroom stall. Although the story took the second spot to a woman and her pet slug (you can tell the election is over, can't you?), kudos nonetheless to
Civil Negligence
, who may be the first Deadpsin commenter ever to be quoted by Keith Olbermann. Video evidence below.
By the way, apologies are in order to University of Georgia fans. I wrote that the incident occurred at Sanford Stadium, whereas several have pointed out that it appears that it was at a University of Florida game. The young lady being a Gator makes a lot more sense. And so, the campaign to nominate "I fought the stall and the stall won" to the Deadspin Hall of Fame begins. We should also probably nominate the girl. And what the hell, the slug, too.
Countdown With Keith Olbermann
[Official Site]