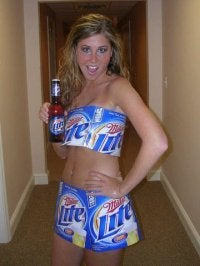 Even though the incident in question evidently occurred in 2004, former University of Florida student Leah Logue is just now becoming an intertubes superstar. Here she is, courtesy of Facebook friend and Deadspin reader The Bullsaw. Hard to believe she got plastered and ran headlong into a bathroom stall door. Further, hilarious details below. We posted her inebriated adventure yesterday, Clay Travis picked that up and posted it on his blog, and two of his sharp-eyed readers then seemingly identified her (quoteth one: "Everyone called her, 'Leah falls down' because the video circulated through most of the student body."). And further details are sure to come in after Keith Olbermann referred to our post on Countdown last night. Here's the link to Miss Logue's Facebook page . From Clay's site:
First came Paul who writes: Hey Clay: Some background on chick running into bathroom stall video...this happened 3 or 4 yrs ago at florida georgia. I dated her sorority sister...She was a DZ at UF named leah whom everyone called, "Leah falls down" because video circulated most of the student body. Then came Josh with even more details: Her name is Leah Logue, UF alum...The incident was at The Landing a few years ago for the Florida/Georgia game. My friend was trying to get with her like 4 years ago, but she always got too hammered and he wasn't feeling it. He also sent a link to her facebook profile. So, of course, I was obligated to send her a friend request. I'll keep you updated.
Logue, who apparently is in marketing now, should know that she should strike while her fame is at its zenith.
Survivor
,
Dancing with the Stars
, appearance in the
Nick and Norah's Infinite Playlist
sequel ... Deadspin is the freeway onramp to fame.
George/UF Girl Meets Bathroom Door At Cocktail Party
[Clay Travis.net]