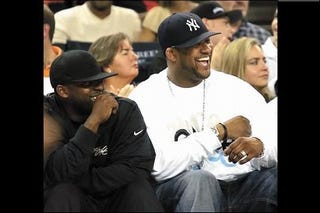 Both the Mets and Yankees believe that they have one more large object to intsall in their brand new ballparks, and it ain't a deep fryer; although it will consume many, many cheese fries. Today is the day that teams can begin negotiating with free agents from other teams, and both of New York's resident MLB baseball squads want CC Sabathia in the worst way. The Yankees, of course, have him top on their list. According
to the New York Daily News
, the Steinbrenner clan will offer him in excess of the $137.5 million for six years that Johan Santana got from the Mets last winter. But now look over to Flushing Meadows and imagine Santana and Sabathia on the same staff.
A high-placed Yankee source Thursday reacted to the development by saying: "The Mets are in it? Great. Bring it on." Meanwhile, Omar Minaya was dicussing a trade for a pitcher with a GM but said he would first have to see how Sabathia's free agency was progressing, a baseball executive said. A Mets official subsequently wouldn't deny interest in Sabathia.
Begun, the Sabathia Wars have. Of course the Yankees and Mets also want Derek Lowe, and the Yankees crave A.J. Burnett, who filed for free agency on Thursday. Oh, this will be fun.
Battle For CC Sabathia Turns Into Turf War Between Yankees And Mets
[New York Daily News]