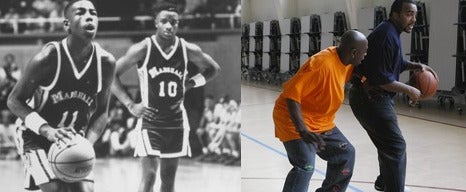 Another inevitable sign you're getting old: It's been nearly 15 years since the release of "Hoop Dreams". For the ignorant kids out there, "Hoop Dreams" was the universally-praised documentary that followed around two young kids from inner city Chicago, William Gates and Arthur Agee, as they tried to achieve stardom in the NBA. (Spoiler: They didn't.) Today, the Chicago Tribune has a compelling story giving us an update on the duo, who are now both in their 30s. Gates is a minister working in the infamous Cabrini area while Agee has been living like an NBA superstar in one respect: having lots of illegitimate children!
Gates, the reserved one, has become an authoritative force who leads a church in the Cabrini area. He is married with four kids. Agee, a spirited charmer, doesn't have a regular job but is launching a line of "Hoop Dreams" apparel. He has five kids by five different women.
Evidently, hoops weren't the only rotund objects Agee was dreaming about. (Psst ... vagina.) But that's nothing next to the following revelation: "A spirited charmer" is an anagram for "carried a sperm hit". You have no idea how happy this information makes us. It's both funny and profound, especially after you read the part where Agee mentions how he has to pay more than $900 a month in child support payments. He carried out a sperm hit on himself!
'Hoop Dreams' film players remain friends; lives have diverged
[Chicago Tribune]