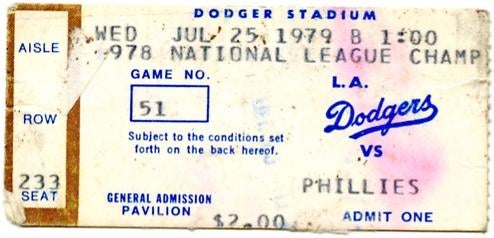 The tough economic conditions are hitting all of us, my friends, and the sporting world is not immune from feeling the effects. From NASCAR's cancellation of test runs next season to the New Jersey Nets offering free tickets to the unemployed, businesses will do what they have to in order to survive. While the Red Sox opted to keep ticket prices stagnant next season, the Dodgers are taking a differing approach. In 2008, the Dodgers most expensive spring training ticket was a reasonable $20. In 2009, they're raising prices for 700 extra special seats to $90 ... for a SPRING TRAINING game. The Dodgers are moving into a new spring training home in Glendale and as Jerry Jones has taught us, teams need to pay for new venues somehow.
Mannion said the $90 price includes free parking in the VIP section, which normally costs $10; a $20 coupon that can be used for food, beverages and merchandise; a different premium item such as a floppy hat or baseball hat at no charge, and complimentary water and sunscreen along with those fancy towels.

The Dodgers are charging $30, $26 and $24 for everything else between the bases, and $18 for reserved seats otherwise.
Oh, well that's a bit different if they're including floppy hats. Those things are like gold in that Arizona sun. Other teams like the
Phillies are raising some ticket prices
but they're for games that actually mean something. Oh, and they have a World Championship flag to hang in Ashburn Alley. I'll certainly pay an extra dollar or two per game to look at that beautiful site. On the plus side for the Dodgers, they're probably pricing out some of those
nasty punks
that LA has become known for in recent years.
Dodgers to have $90 spring training tickets
image via flickr