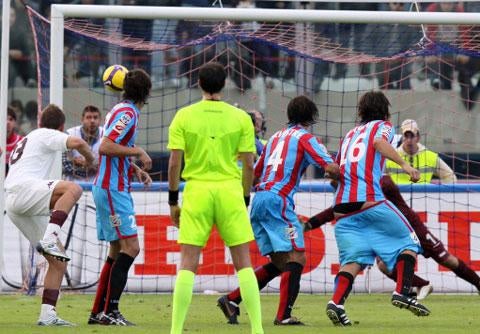 The sport: Soccer. The place: Sicily. The teams: visiting Torino vs. Catania, Serie A. The pants: Around the ankles. To block the goalie's view of a free kick, three Catania players, including the pantsless Gianvito Plasmati, pictured, dropped their shorts. Result? Goooooooooooal. Catania wins, 3-2.
"This is a strategy that (Catania coach Walter) Zenga tries continually in training," the club's chief executive Pietro Lo Monaco told RAI state radio yesterday. But former referees coordinator Paolo Casarin called the move "unsportsmanlike and in bad taste." Lo Monaco responded: "A trick? I wouldn't say so. It's up to the re­fe­ree to decide if it should be pena­lised, otherwise I don't see where the problem is … Good taste is relative."
Email I just got from the 49ers: "Mike Singletary is intrigued by this tactic and would appreciate any further information."
Serie A Team Score By Dropping Their Shorts
[The Spoiler]