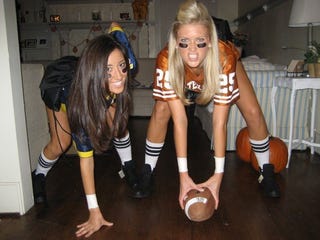 You remember Natalie Nelson, the USC Song Girl who
infamously cheered for the wrong team
when Texas scored a touchdown in the 2006 Rose Bowl. She's back in the news, as Scott Wolf of the Los Angeles Daily News has unearthed a photo of Ms. Nelson at a 2006 Halloween party wearing as her costume ... a University of Texas football jersey. Are you doing the math? Was a conspiracy afoot in Cheerleaderland? More incriminating photos following the jump. Natalie Nelson attends Halloween party in Oct., 2006, dressed in a Texas football jersey. Two months later, the USC song girl
"mistakenly" cheers for Texas
following a Longhorns touchdown. Wow. It's now your move, Oliver Stone. Here are some other photos courtesy of
Busted Coverage
, who makes the very wise statement: "Never….ever….take photos of yourself in any jersey of a team you might be facing in the BCS Championship. Grab a Syracuse shirt. Then you'll have no worries."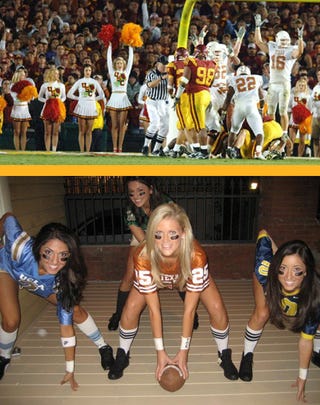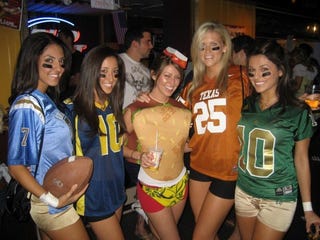 Bonus tidbit: Nelson ended up marrying former USC and
current Carolina Panthers lineman Ryan Kalil
. Update: As a commenter points out, the 2006 Rose Bowl occurred before the Halloween photos were taken. Still, something is fishy ...
Answer Forum
[Inside USC]
Busted Coverage Investigation: The USC Song Girl Who Cheered For Texas Back In The News
[Busted Coverage]