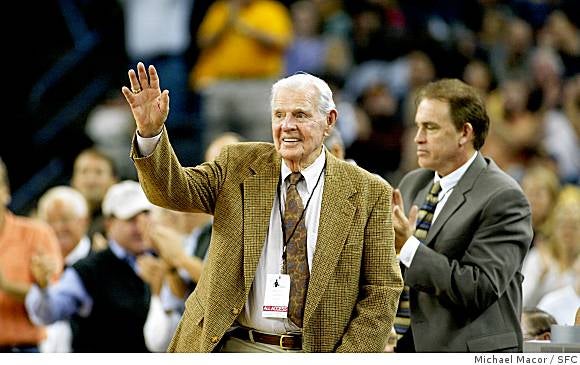 The two greatest basketball coaches who ever lived are now gone. One you've probably never heard of: George "Bud" Presley, who labored in obscurity for most of his career at a junior college in Atherton, Calif., and who passed away in 2003. But his is a story for another day. Let us talk now of Pete Newell, who won an NCAA title with Cal in 1959, an Olympic gold medal in 1960, and passed away on Monday at the age of 93. Raise your glasses and toast the greatest there ever was. Among basketball purists, five names ring out when talk revolves around the most influential major college coaches ever. Hank Iba, John Wooden, Claire Bee, Bobby Knight and Newell, not necessarily in that order, demand ultimate respect from anyone who really knows anything about the game. Knight would be considered the modern offspring of the others, products of the early decades of the 20th Century, a hardscrabble Hoosiers America where defense and fundamentals were king. Knight himself counts Newell as the most influential coach in his life. And before you start your talk about Wooden and his 10 national championships, consider this: Newell retired with a 234-123 overall college coaching record, including an undefeated record against Wooden the last eight times they met. Wooden eventually cornered the market on talent at UCLA, but as Knight said on Monday, "Nobody contributed more to this game and its history than Pete Newell." From the San Francisco Chronicle:
Well into his octogenarian days, Mr. Newell would help players at the major college and NBA levels at his annual Big Man's camps in Los Angeles, Hawaii and later Las Vegas, where he taught millionaire pros how to play better in the post — and didn't charge them a dime for the instruction. Along the way he elicited glowing comments like this one from Shaquille O'Neal: "He's the best teacher there is." "Players today have increased physical skills, but basketball skills have diminished," Newell once said to the San Francisco Chronicle. "I resent the fact that many of them take the game for granted. It starts at the top, though. It's an overpriced, corporate-dominated business run by lawyers who have a bad product, and don't know how to fix it."
Fuckin' A. But Newell wasn't always so dour. Fun fact: He appearad in several
Our Gang
comedies as a kid, and would have pursued the acting profession, probably, had he got a choice role opposite Charlie Chaplin in
The Kid
. That role eventually went to Jackie Coogan. Coogan went on to become Uncle Fester in
The Addams Family
, Newell to become a teacher. That's what college basketball coaches were in his day, instead of the PR figureheads they are now. (Well, most of them). I'm proud to have known Pete Newell, to have interviewed him, to have warmed myself a tiny bit in the glow of his knowledge and passion for the game. When I coached a youth team a couple of years ago, the first thing I did was get out the traffic cones and run the defensive slides drill he once showed me. The fundamentals were the same in 2006 as they were in 1946; in basketball, and in life. You pull up your socks, bend your knees, move your feet, and just play defense, dammit.
Pete Newell: Basketball Coach And Teacher
[San Francisco Chronicle]