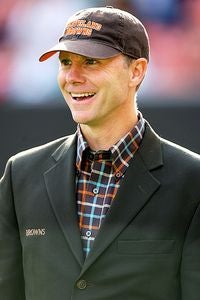 As a person who gets tons of nasty email, I know it's tough to always show restraint and resist the urge to stick up for yourself. This practice is frowned upon, and not healthy, because, well, those emails could potentially come back to bite you in the ass. Plus, as a "professional" you're supposed to take the high road on such matters. This has to be a daily problem for sports executives, especially those who advertise their email to the public and then receive emails like this one which was sent on Monday night to Browns' GM Phil Savage from a disgruntled fan. (UPDATE: This email interaction was forwarded from WXDX in Pittsburgh . They talked about the email on air. Given that fact, skepticism about legitimacy of the email is warranted. Original emailer says it is true, but you know — these things can get out of control. So until I can find out whether or not this is the real deal — which may be hard, let's just keep this in the "might be a prank" file. Because some people are saying this is very out of character for Phil Savage. Also from the original person who sent the email to the Savage account: "It's an official address at Clevelandbrowns.com Who knows, maybe an intern checked it and flipped out. I've sent 2 flollow ups, one an apology and haven't heard anything back.... " My gut? Probably the person in charge of fielding Phil Savage's email went a little haywire...). Rest of original post, after the jump:
You are easily the worst GM in the NFL. Chud, Crennel and Tucker should NOT have jobs. How the hell do you play prevent defense the entire game? How do you NOT use Jerome Harrison more? Why the hell would you throw the ball with 6 minutes left? This is officially a regime that is worse than Butch Davis'. By the way, just like last week - this email was written while the Browns still had the lead.
It appears Mr. Savage wasn't in any mood to take this sort of criticism after a victory, because he sent this response:
From: Savage, Phil Subject: Re: Browns To: xxxxxxx Date: Tuesday, November 18, 2008, 12:17 AM Go root for Buffalo-f#@* you-
Maybe he meant to say "thank you" and his face fell on the keyboard because he was so tired? The time stamp does say it was a little after midnight when he sent it. Or maybe he was just drunk and thought he was emailing with
Kellen Winslow
? Either way, I'm sure plenty of other Cleveland Browns fans would like to send Mr. Savage an email message more often if he continues to fire off these colorful responses.
Give it a shot!
********** TONIGHT: Watch Sussman live blog without access, favor or discretion. Thank you for your continued support of Deadspin... 'Til tomorrow