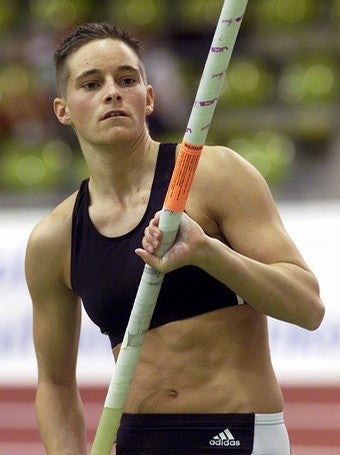 Here is German pole vaulter Balian Buschbaum, who used to be Yvonne Buschbaum. Through the miracle of medical science, she is now a he, although his competitive pole vaulting days are now over. That's because the testosterone treatments required for the sex change made him ineligible to compete. Not only is Buschbaum flourishing in his new identity, but so is the German press; especially this writer for Deutsche Welle magazine, who seems to be harboring a wellspring of hidden gender feelings himself.
The sky is wide open for Yvonne Buschbaum, who feels the lightness of being after undergoing extensive surgery to become the man he always felt he was. Now, the athlete goes by the name Balian Buschbaum. "Courage is the road to freedom," said a recent diary entry on his Web site. "I woke up in complete freedom today. The sky is wide open." Buschbaum is not ready yet for interviews as "I am still flying on my clouds of freedom and won't land until the end the November, at the earliest."
Buschbaum will now become a coach at the USC Mainz club in central Germany, where he will teach others how to pole vault.
Sky's No Limit For Gender Changed Vaulter
[DW World]