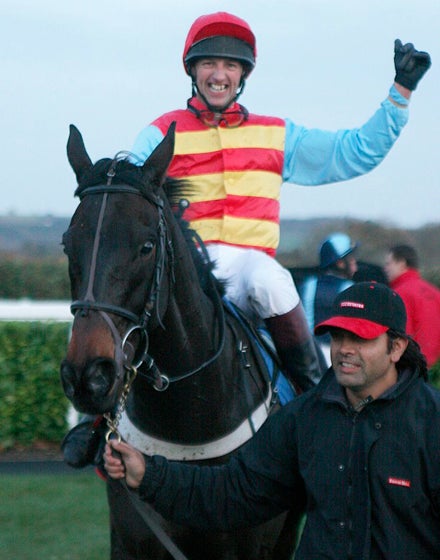 Well, if the world's worst boxer can win one, I suppose the world's worst jockey might as well. Britain Anthony Knott has been a jockey for 28 years and had never won a race until Thursday, when he prevailed at Wincanton, in Somerset, England. But we almost had a much more hilarious and newsworthy result when Mr. Knott began celebrating, Leon Lett style, as he neared the finish line, and was almost overtaken. The closest that Knott had ever come to winning was fifth place, so it's only natural that as he approached the finish line in first place, he began waving to the crowd, allowing another horse to nearly beat him.
'Joe Tizzard had told me he would stay and said not to do anything silly at the last.' So Anthony left it until after he had cleared the final flight before his mad moment with a flourish to the gallery that could have had disastrous results. 'I had no intention of doing that but the vicar and all my friends from my village of Sturminster Newton came running from the bar and there was a tremendous roar. You wave to people when you pass them in our village and I was just doing that. I had no intention of doing it, I just forgot I was in a race.'
(Usain Bolt nods head knowingly).
Anthony Knott's Moment Of Joy Lifts The Winter Gloom
[The Daily Mail]