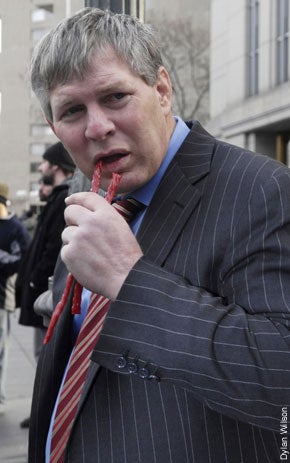 I had the pleasure of interviewing former Phillie/Met Lenny Dykstra over the phone last year when he launched his extravagant "
Players Club
" magazine. As a Phillies fan, this was one of those moments that was completely surreal and exciting — and he was stoked ( I believe he actually said "stoked") to be talking to someone from Philly about his magazine. "You should come write for us, man!" he said. The bad part was it was the day before the Mitchell Report was supposed to come out, so when I sheepishly dropped a question about it ("I'm sorry, but I have to ask...") into the conversation, the convivial tone quickly ceased. "What the fuck is this?," he said. "I don't know anything about that, man. What are you trying to do?" This was followed by a succession of mumbled "fucks" and "dudes" and then a quick hang-up. I felt horrible, like I'd just yanked off Santa's beard because, you know,
I could
. Yesterday, Dykstra appeared in a Manhattan courtroom to fight over
$139,000 owed to him by a Manhattan accounting firm
. Luckily, some one stuck a tape recorder in his face after it ended: • [They] folded like Mitch Williams in the ninth," Dykstra said about the firm that sued him as he made reference to a former Phillie teammate who served the winning homer to the Blue Jays' Joe Carter in the '93 World Series. "There was no case. There was nothing." and • "That's my f—-in' ashtray money, bro," he told the New York Post, when asked about claims he owed a private jet company $7,000. "I don't even know if I flew on their plane." Aloha, Mr. Hand.
Lenny Dykstra — Still Classy After All These Years
[NBC Philadelphia]
Lenny Gets A Walk
[NY Post]