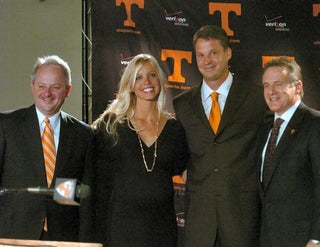 S

Remember back when www.fireronzook.com was the height of internet genius? Now we've moved on to a coach's wife. And by we I mean anonymous internet web sites. In the wake of Lane Kifffin's introductory press conference, Layla Kiffin has received an ample amount of attention. How much? On Monday afternoon, one hour after the press conference, "Lane Kiffin's wife" was the number one most searched term on Google trends. What was number three? "Layla Kiffin." Many Vol fans wanted a coach who could win the press conference. Turns out we got a wife that could win the press conference instead. At least according to the folks behind iwoulddolaylakiffin.com
They say behind every great man there is a great looking woman! Well it might not go exactly like that but it should! Our new YOUNG coach Lane Kiffin is toating a super hot M.I.L.F.. I'm hoping she's involved in the game plan somehow.

Welcome to Knoxville and PLEASE come around quite often! At least a loss won't be quite as bad next year. Come here and get lost in those georgious blue eyes!
As you can tell, spelling has always been our strong suit in Tennessee.
Layla is currently 8 months pregnant. (Yeah, I know. Every woman who sees the above picture is slamming their head into the computer screen over and over again.) If the Kiffin family every wondered what SEC football was like, they now know how all-encompassing it is. Layla Kiffin is already an internet superstar even though her husband has been at UT for two days. Lane Kiffin? He probably just wishes that someone had started www.firelanekiffin.com instead.