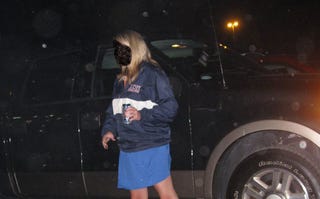 We get a massive amount of tips in our inbox each week.
Some are pretty interesting, but don't get published for one reason or another - usually because they're just so absurd or really lack even the most tenuous of news angles to give them the go-ahead. Other times it's because they're just absolute horseshit. But every Friday until we get sick of running them, we'll present to you some of these not-so-shiny gems. All items should be treated as [Sic'd]. Enjoy...
I can't show the whole thing. I couldn't do that to the poor girl...but you should read Every Day Should Be Saturday's commentary on the whole incident. The man can make even the messiest things read like Tolstoy. Original story comes from here.

A Not-So-Surprising Fact About T.O.

TO is beyond a self absorbed prick.
I was in Vegas for new years at the palms. Played 3 card poker with Jonathon Vilma for 2 hours and we were just chillin and havin a great time. Next day we see TO in the high rollers room. We walk by and TO has 2 bodyguards standing outside telling everyone that even looks in his direction: "TO isnt talking to fans today". Hey douchebags, TO has NO fans.
I Blame You People
This was my first time reading info on your site. I found the writing interesting and informative, but when I went to the comment section and read the language you allowed people to say...it will be my last time on your site.
At Least He Didn't Say "Meat Spin"
I was just at the yale club with Shalek and he told me you were hanging out with "some sports blog dude from "spin job" or something" on sunday?
Was it one of the guys from deadspin? curious
Isn't It A Requirement When You're From Jersey?

If you're interested in a back story, Traci was a standout athlete at
Cherokee High School- probably one of the top soccer players in the
state. She was smoking hot- blonde, long legs, and (surprise) a total
slut. Bonus fun-fact: Her younger sister wasn't much better. She got
double-teamed by two of my friends a few years back. The sad part to
all this was her mom was a beloved secretary at Beeler Elementary who
probably did not sign up for this.