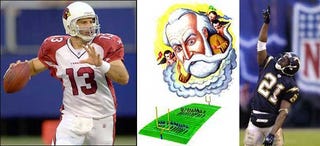 Time for Waxing Off, the feature generally credited for saving the passengers of US Airways flight 1549. Today's topic: Athletes who credit God for victories and success.
The Steezer:
I have an extra special take on this topic. I am the daughter of a Methodist minister. Her father? A Presbyterian minister (and yes, I said "her." My mom's a minister. Isn't that "neat."). I spent 18 years of my life going to Sunday School and church every week. Preacher's kids generally either follow their parent's footsteps or take a big dump on them. I landed somewhere in the middle … I lead a pretty noble life minus the binge drinking, cursing, and questionable decision-making in my love life.
I have heard both my mom and grandfather talk on numerous occasions about how "wonderful" it is when athletes gesture towards Jesus or talk about Jesus or get wicked tats depicting Jesus. I roll my eyes. When I see or hear it, it looks like part of the show. It's going through the motions. Did they point toward the sky as they left the strip club and say "Thank you God for putting Fancy in my lap!" Probably not. But if you score a touchdown and somehow insinuate it was only because of your hard work and practice that makes you some kind of a villain.
Don't get me wrong though. I believe in God. I believe in living a good life. But I also believe that ultimately all of us are subject to a greater balance; for every good thing that happens in someone's life, they pay the price in another way. Examples:
Tim Tebow:
Good: Superman-esque quarterback
Bad: Thinks jorts are cool
Kurt Warner:
Good: Super Bowl bound
Bad: Weird looking wife
Deion Sanders:
Good: Could play both ways
Bad: Terrible reality sitcom on Oxygen
Tony Dungy:
Good: Record-setting coach
Bad: Had to look at Peyton Manning's smashed-in face every day
Vince Young:
Good: Best. College. Quarterback. Ever.
Bad: Nothing … okay, may be a tad crazy
So that's my philosophy on religion. To answer the other part of the question, do I think God is a sports fan, I think he probably is. I think he keeps f-ing up the BCS system every year so we'll wise up and get rid of it. I think he keeps the Cubs from winning the World Series because it's already too cold in October in Chicago for him to brave the trip. I think he keeps Boston sports teams near the top of the charts because he fears the brutality of Southies. And I think he keeps Charlie Weis fat because it makes him funny for all of us to look at.
— The Steezer is a Texas Longhorn fan living in Washington D.C. who hopes Sam Bradford's crabs start healing soon.
—-—-—-
Jess Mac:
Dear God, it's me, Jess.
First off, I'm sorry I spent four years at a Catholic college drinking whiskey and eating calzones rather than going to church, class, or, you know, HELPING people. I'm sorry that at Friars basketball games my friends and I would chant "Je-sus! Je-sus!" during a Providence run. I'm sorry that we made fun of the Friar mascot for looking vaguely, and irrelevantly, like a frightened Asian boy. Additionally, I'm sorry the college decided that positioning a twenty-foot-tall inflatable Friar behind the basket at home games was a good idea. I think they can redeem themselves if they turn it into a Wacky Waving Inflatable Arm Flailing Tube Man Friar when opponents are at the line.
I'm sorry Tim Tebow won't stop calling you, that must be really annoying when you're trying to play Rock Band or smite people. I'm sorry that after having virtuosos like Da Vinci and Michelangelo render your likeness in resplendent masterpieces, Kurt Warner decided to break out his 96 pack of Crayolas with the built-in sharpener and draw you as Buddy Christ. Speaking of which, I'm sorry that Kevin Smith cast as a lady that dated Uncle Joey as you in "Dogma."