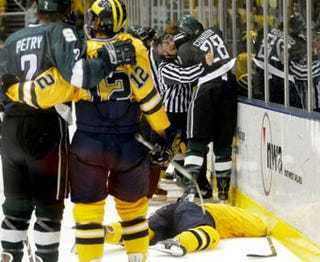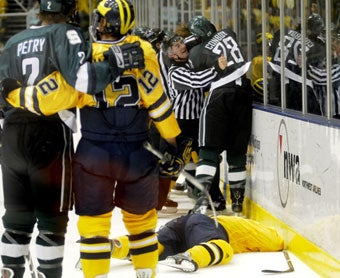 For the second time in three months, Michigan defenseman Steve Kampfer was the victim of a brutal assault, but at least time it wasn't a classmate delivering the cheap shots.
You may remember Kampfer as the unfortunate hockey player who got his skull cracked open by a member of the Wolverine football team. Kampfer recovered from his injuries and made it back to the ice this season—until Saturday night when two Michigan State hockey players worked the ol' No. 6 on him:
In the final minute, Michigan State freshman forward Andrew Conboy came up behind Kampfer, grabbed him by the neck and slammed him to the ice. With Kampfer defenseless on the ice, Michigan State sophomore forward Corey Tropp — who had been knocked down by a clean open-ice hit moments earlier by Kampfer — slashed him in the neck area with his stick. Tropp received a double disqualification, and Conboy received two roughing penalties.
Mike Milano was kicked off the U-M football team for what he did to Kampfer, and nobody should cry foul if the same happened to Tropp or Conboy. (Coach Rick Comley said he would "deal with" his players.) With MSU football seemingly revived and the hoops team on its best roll in years, the least the Spartan hockey goons could have done was kept their putridness under the radar and not killed anybody. Good thing no one cares about hockey, right? (Grumble, Grumble....)
Kampfer speaks out after slashing incident [Detroit Free Press]
What We Learned: Don't trust the Spartans, passerby [Two Line Pass]
[Photo via The State News]