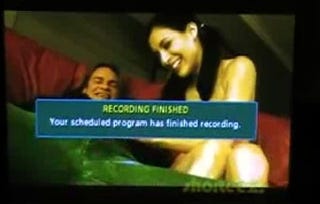 Comcast is vowing to catch the saboteur who spliced porn into the Super Bowl broadcast to some 80,000 subscribers in the Tucson area on Sunday. But in the meantime, here's a $10 coupon. Porn credit!
"We can't undo what happened, but we remain deeply sorry for the impact this situation has had on our customers," Comcast Tucson corporate affairs manager Kelle Maslyn said in a statement Monday. "To that end, we will be issuing a $10 credit to any Comcast video customer in Tucson who was impacted. While this credit won't change what happened, we hope that it will demonstrate to our customers, and to the Tucson community, how seriously we are taking this situation."

Maslyn said Comcast is "continuing with our investigation into what we believe may have been an isolated, malicious act, and will aggressively pursue all leads until we come to resolution." Comcast customers in the Tucson area seeking the credit were directed to call (888) 315-8219.
Interesting take on this by Valleywag, by the way, which says that people shouldn't be surprised by any of this. After all, Comcast is one of the nation's leading purveyors of porn. Although I can't agree with their assertion that people are "pretending to be outraged." The outrage is real enough, it seems.