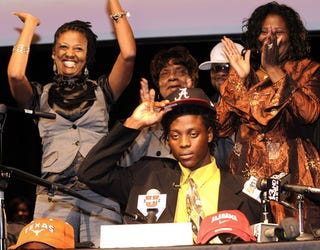 National Signing Day jumps the shark on Wednesday as Gadsden High cornerback Dre Kirkpatrick plays Three-Card Monte with caps from Texas, Alabama and ... the Braves?
I guess that's an Alabama hat; not sure. Anyway, Nick Saban, that sly boots, has earned the nation's No. 1 recruiting class once again, as tabulated on aggregate by ESPN, Rivals and Scout.com, the nation's top three recruiting services. Rivals rated Alabama No. 1.
And to illustrate how silly the whole process has become, there is this bit of theater from Kirkpatrick yesterday, as he made his choice between Texas and Alabama.