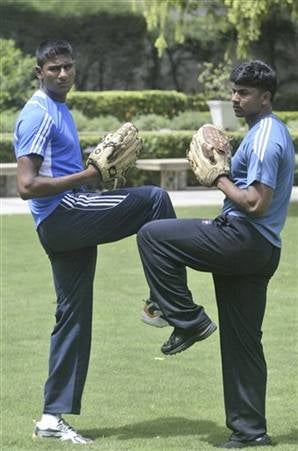 Rinku Singh and Dinesh Patel, the teenage pitchers from India who were signed by the Pirates recently, would like you to know that the man from Topps is a bad man. A very baaaad man.
Apparently a Topps executive got hold of the two recently and demonstrated how we play hardball here in the states, getting them to sign a baseball card contract under false pretenses. And for, if I'm reading their blog correctly, the princely sum of $5. Rinku and Dinesh relate the experience on their blog, The $1,000,000 Arm, under the headline A Very Bad Thing Happen To Us.
Yesterday locker room man coming to us from company Topps. He saying we sign contract. We telling him we not reading this english. we say he have talking JB sir. He saying he talking JB sir and JB sir say OK signing.

So we signing this thing and he give me and Dinesh $5.00. Then we finding out JB sir not knowing this. Man from company Topps lying to us. he very bad man. This very bad company. We having good deals with upper Deck and Playoff. We not liking Topps. We never be Topps if they ask us signing again. They bad man and say lying to us.

We hoping no people buying Topps cards. Peoples who liking us only buying Upper Deck and Playoff.
The JB Sir in the post, by the way, is Rinku and Dinesh's marketing agent, Jeff Bernstein, who has been with them every step of the way since they won a reality show competition in India last year.