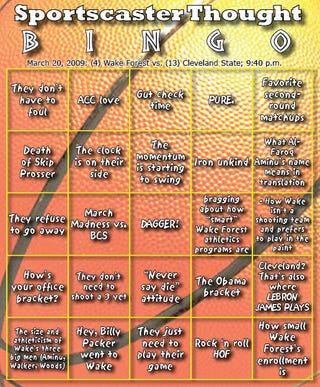 Your live bloggers for this game will be 3:10 to Joba. Like the actual Joba, he will be relieved halfway through by longtime Deadspin commenter chilltown.
(stumbles in)
Hey, Deadspin people. Sussman was kind enough to whore for my site already so I'll refrain from linking to my side project for the rest of the evening. Actually that's a total lie, expect many more references to my other projects on the interwebs because I need the page views to feel important. I'm with you throughout the first half and I promise that this will only be slightly less awkward than Cramer on The Daily Show.
I am a "licensed" commenter at this fine corner of the Internet, although I don't weigh in too often. I probably should start doing that, though, if for no other reason to alleviate a serious amount of stress on the servers of porn websites across the United States. So since you may not see me around these parts as often as some people, what is there to know about me? Well, I'm in college, I run a baseball blog as well as a contributor to another fine site that has been represented in these live blogs already yesterday and today. By my count, the whoring total is up to three and the game hasn't even started!
I'm going to take a page out of friend Shakey's book and answer any and all questions you might have for me during the course of this game. Ask away, folks, and believe me when I say that there are no limits because this night can only be a success if my lawyer is totally exasperated with me by tomorrow morning.
As Sussman also mentioned, I'm only with you for the first half of tonight's action so that Chilltown could get in on the fiasco as well. You'll be made well aware when the switch is made, most likely by my incoherent sobbing. We've got limited time, but I'll try to be fun. As a wise man once said, "Let's let these ponies roam." I'll be updating from the top down. All times are Eastern. Get some!